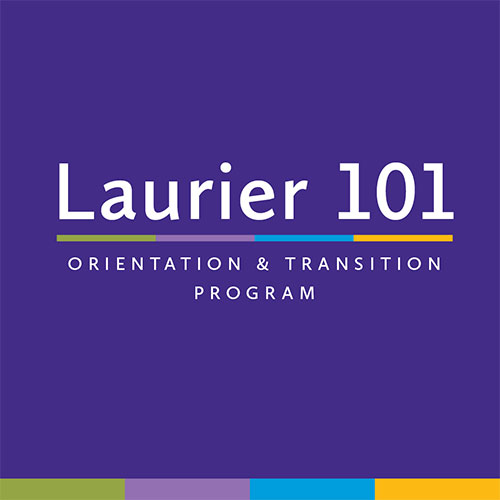 Laurier 101 January Start
We know that starting your studies in the winter term can make you feel out of the loop sometimes, so we're here to help you navigate the steps to becoming a Golden Hawk and feeling prepared for January!
Laurier 101 is a campus-wide incoming student support program that will support you from the time you accept your offer until the first week of classes and beyond. Laurier 101 brings together students, staff and faculty from across campus to help answer your questions about Laurier both inside and outside of the classroom.
Course Registration Appointments
If you would like to receive individualized assistance with your course registration, our transition specialists are available to help you. Book a course registration appointment to learn how to determine your program requirements, choose electives, build your schedule and navigate the LORIS registration system.

Before your appointment, review the Course Registration Guide and make a list of the preferred classes you would like to take in the winter term.
Book your appointment:
Online Headstart
Online Headstart is a webinar designed to help make the transition to university life easier by reviewing everything you will need to know before you start your classes in January. You will learn about the basics of course registration, different ways to get involved on campus, and supports and services available to assist with your academic transition. The webinar will also include a live question and answer period with representatives from our Transition and Learning Services and Admissions teams.
Contact headstart@wlu.ca if you are in need of an accessible version of the webinar recording.
Online Orientation
Learn about what to expect at Laurier, both inside and outside of the classroom. Log into Online Orientation to discover faculty testimonials, how-to-videos, downloadable resources, and tips from senior students, all designed to help you get ready for your university experience. The best part is that Online Orientation will be available to you throughout your entire first year, so you can always go back and review information if you need any reminders.
To access the Online Orientation program, visit mylearningspace.wlu.ca and log in with the same ID and password that you used to create your MyLaurier email account. Once you are logged in, click the "Select a course" icon (shown right) from the menu bar, and select "Online Orientation – January 2020" from the list of available courses.
January Social
Help us celebrate the start of a new term by attending a January Social for all incoming first-year students starting classes in January. This is a great opportunity to meet some other first-year students on campus, learn more about academic and wellness support services and explore the many ways to get involved on campus. We will also be hosting a senior student panel where you can ask your questions about life as a Golden Hawk. Our panel will share their experiences and provide advice on how they navigated their first year of university.
The event is co-hosted by LOCUS (Laurier Off-Campus University Students).
Waterloo campus social:
Brantford campus social: