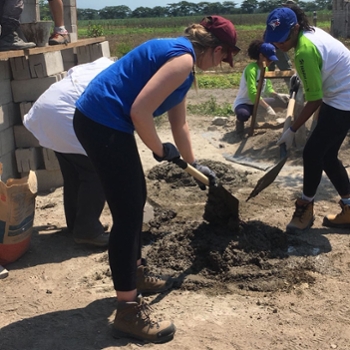 From Volunteer to Team Leader: How one Golden Hawk is building on her experience in El Salvador
Winter reading week is a great time for students to get ahead on their studies and school projects, to travel back home to visit family or to plan a trip abroad with friends. But for students looking for something else to do, the Alternative Reading Week: Habitat for Humanity trip to El Salvador might be the perfect option.
Jillian Graham, a 4th-year Sociology student on the Waterloo campus, is participating in the 2019 trip to El Salvador as a student team leader. Jillian previously travelled to El Salvador in May 2018 to work on a Habitat for Humanity build. "I had never done anything like it before," Jillian said of the trip. "I always wanted to work with Habitat for Humanity and I had never really travelled before. I didn't know if I was going to like it but the country is amazing, the people are amazing and you get to meet a lot of new people in El Salvador and from around the world."
When the opportunity arose to be trained as a team leader, Jillian knew it was the right fit for her. "I want to help other people have the same experience I had when I went," she said. "I think it can help people build their own sense of self and branch out in their own way. You can build different values when you're there."
The nine-day trip will begin with two cultural days, which will provide the opportunity to explore El Salvador and learn more about the country and the culture. Construction work will take place from Monday to Friday, when participants will work with a trained mason to help build a home with a local Salvadoran family. And students don't need to have previous construction experience to participate as they will be taught what they need to know and do. 
"I'd never done construction before," said Jillian, "but they walk you through it. There were jobs for everyone and you didn't have to be the strongest person in the group to participate."
The trip will end with two days at an all-inclusive resort, providing participants with well-earned time for rest and relaxation, and an opportunity to spend time with the other volunteers from Laurier. 
Students from both the Waterloo and Brantford campuses are invited to participate and Jillian is working closely with the team leaders from Brantford. "It's fun to meet new people who are from a different campus but from the same school," she said.
Along with Jillian and students from Waterloo and Brantford, participants will be accompanied by a Laurier faculty member who has previous experience with this trip. Additionally, to help prepare students for the trip, Laurier International will provide pre-departure information, which will cover health and safety, understanding new cultures and travel preparation. 
"Seeing how happy people are getting a new house is really nice," said Jillian. "You're helping a family have a home when, in normal circumstances, they wouldn't. And at the end, we do a half-day of building then have cake and a little party with the family. It's like a birthday party, but for the house."
Details
Students who are interested in participating in the Alternative Reading Week trip can find out more during an information session on Friday, Oct. 19 from 1:30 to 2:30 p.m. in Arts 1E1, or by emailing Jillian at grah4625@mylaurier.ca. Participants are required to cover the cost of the trip, including the round-trip flight, the fee to Habitat for Humanity (which covers accommodations, meals and ground transportation for the duration of the trip as well as the time spent at the resort), and spending money. The official currency in El Salvador is the US dollar. The portion paid to Habitat for Humanity is eligible for a tax receipt.