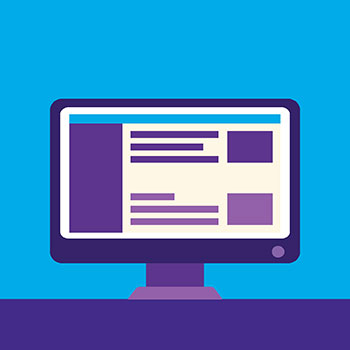 A golden guide to finishing your semester strong
This isn't how anyone expected to finish this semester, but here we are. You can do this. Follow these steps to ensure you are prepared to manage your time and complete all assignments, readings, and tasks to finish out this semester strong.
Step 1: Replicate your ideal Laurier study space
In order to stay focused and committed to your course work, find a place where you can limit distractions (family, friends, technology, noise, etc.). Set up your computer and take out your textbooks. Easy enough so far, right?
Step 2: Get organized
For each course, list your academic tasks for the final weeks of this semester. Include tests/quizzes, assignments, chapter readings, etc. Remember to check your emails and courses on MyLearningSpace for updates from your professors. Use this handy course tracker to get started and calculate where you currently stand in each course and what tasks you have remaining. Ensure that you confirm all due dates as some may have changed and use the end of term planner to map out your next six weeks.
Step 3: Make a plan
This is the fun part. Now that you know what you have to do, you need to plan out when you're going to get it done. Use a weekly schedule to block off time in your day to complete your tasks.
Here are some helpful tips:
Create a schedule every Sunday for the upcoming week.
Start with the time you previously had scheduled for in-class courses. You'll now schedule and use that same amount of time for independent studying.
Add any commitments that have a fixed time (online quizzes, work, etc.).
Schedule short blocks of time (one to two hours) for study sessions to complete readings, review material, and test your knowledge.
Be realistic. Schedule breaks between study sessions for rest, physical activity, and meals.
Stay consistent. We're creatures of habit, so it's important to create a new routine. Try to go to sleep and get up at the same time each day. Start your mornings with a plan of what you need to accomplish that day – a daily task list!
Step 4: Stick to the plan
Easier said than done – we know – but you're in the driver's seat and need to stay accountable to yourself. You may encounter distractions like family members interrupting or your phone buzzing. Try these strategies for sticking to the plan:
For each one-hour block, use the power hour technique to stay on task:

Start with a goal of what you want to accomplish, work with focus for 45 minutes without distractions, take a 10-minute break, review your goal, and then assess your progress before moving on to the next task.

Use the Tomato Timer (Pomodoro Technique) to set a timer and study with focus.
Put your phone away, disable pop-up notifications on your computer and turn off Netflix.
Do it for the grades!
Step 5: Take breaks
Once you get into study mode it's important to take breaks and give yourself time to absorb new information. Taking a walk, grabbing a snack, doing a 7-minute workout, or just chatting with a friend can help you stay on task longer and ultimately be more productive. For more tips on how to take effective study breaks (and how to explain to your family why study breaks are an important part of learning), watch this video on How to Be Lazy and Still Get a Ton of Work Done. 
Step 6: Stick to the plan... again
The biggest killer of productivity is procrastination. When you procrastinate and push off tasks, ask yourself "What am I avoiding and what am I doing instead?" Everyone has procrastination triggers – those things we choose to do instead of the work that has to get done. Make a list of your procrastination triggers and create a pre-determined action for how you will deal with each trigger.
For instance, if you know you watch Netflix for hours when you have a looming assignment deadline, write down "I will finish my assignment first and then reward myself with one episode." Remember that procrastination is a choice, so choose to be productive and stick to the plan instead! If you're curious about why we procrastinate, check out The Science of Procrastination and How to Manage It.
Step 7: Monitor your progress
The Laurier community has never experienced a semester quite like this. Your adjustment to the new format may not be perfect, but work hard, repeat the steps above, and keep at it! You already have tools to succeed, now all you have to do is monitor what's still working for you and where you need to adapt your strategies.
Start each day by reviewing your course tracker and end of term planner (Step 2) and weekly schedule (Step 3). These tools will guide you through each day for the remainder of the term. Check in with your progress by asking yourself:
How's my adjustment?
What do I find challenging?
What am I enjoying?
How am I maximizing new time in my schedule and using my strategies to study efficiently?
Who can I contact to ask for support? 
Step 8: Practice self-care
In uncertain times, you may find yourself feeling overwhelmed. Being concerned and anxious about the unknown is normal. However, these feelings may increase discomfort – impacting your concentration and productivity. It's crucial that you maintain consistent sleep patterns, eat healthy, and practice self-care. Easy self-care strategies you can practice at home include:
Going for a walk outside.
Practicing deep breathing throughout the day.
Connecting with your network while social distancing – eat a meal or movie together on social media, send check-in messages, or schedule "phone dates."
Joining a "care-mongering" group in your area to help those in need. Did you know acts of kindness can actually lift your spirits!
You're not alone in this, your peers, instructors, and the Student Wellness Centres are available to help you.
Step 9: Trust yourself
Remember, you're almost at the finish line and you may even learn some new skills along the way. Stay focused, work hard, and reach out for support as you need it.