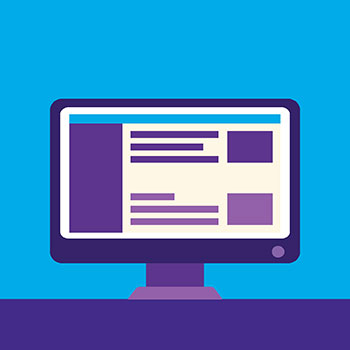 Online Proctored Exams using Respondus Lockdown Browser + Monitor FAQ
Updated April 28, 2020
The decision to deliver a proctored online exam using Respondus Lockdown Browser + Monitor (RLDB + Monitor) is made by individual instructors. Students should consult with their revised course syllabus, MyLearningSpace (MyLS) news feed or directly with their instructors to determine if exams will be proctored online.
If you know your exam requires the use of RLDB + Monitor, review some of the most frequently asked questions below to get familiar with the platform before you write your exam.
Privacy
Will someone be watching students while they take their exam(s)?
Just as in-person exams are invigilated by proctors to ensure academic integrity, RLDB + Monitor records student behaviour to ensure they are adhering to the expectations laid out by their instructor for each exam. This is automated proctoring, which produces a recording of each exam session that is made available only to instructors or their designate and to eLearning staff once the exam has ended.
Is personal information protected?
Only authorized Laurier faculty or staff will have access to the videos of your exam along with identifying information such as your name. Respondus, the company that makes and sells the software does NOT have access to identifying information. Respondus may use de-identified recordings for the purposes of quality control and research for improvement of the product. After each test or examination, videos will be reviewed by the instructor (or their designate) to ensure academic integrity. Videos will be retained for two calendar years, as per Laurier's guidelines on retaining course-related documents.
Cost
Is there a cost?
There is no cost to students for using RLDB + Monitor to take their final online proctored exam.
Technology Requirements and Environment
What technology is required in order to write an online proctored exam?
Students taking an online proctored final exam are responsible for having a computer or laptop, a webcam, a microphone, the free-to-download Respondus Lockdown Browser and a reliable internet connection.
What are the conditions and requirements for taking an online proctored exams?
The student's image and voice will be recorded throughout the duration of the examination, and they will be unable to access other applications or websites on their computer.

Students must present their Laurier OneCard or UWaterloo WatCard. In cases where a student has lost or misplaced their student ID, they may use another form of government-issued identification (NOT including a health card or passport) via their webcam in order to validate their identity.

The collected data is encrypted and will only be accessed by authorized university personnel (no external entities have access or authorization to review the recording).

Students are responsible for the required technology (a computer or laptop, webcam, microphone, Respondus Lockdown Browser, and a reliable internet connection).
Students should enter the test site and become familiar with the software that will be used for their exam before starting the exam by completing the practice quiz available in each course which has an online proctored exam, or via the 'Self-Registration' link in MyLearningSpace.
Students will need a relatively quiet place within which to take the exam.
What if a student cannot meet the conditions and requirements (technological or environmental) for a proctored online exam?
Students who do not possess the necessary technology to take an online proctored exam using RLDB + Monitor may contact their instructor to request that a notification be submitted to ICT, who may be able to loan the necessary technology.
In the event that the above option does not resolve the issue, or students cannot otherwise meet the conditions, they will need to adhere to the deferred examination policy and follow the university's exam deferral process. Any exam deferred in Winter 2020 will not count toward the maximum of five exam deferrals during the completion of a degree.
Pre-Exam Logistics
How does RLDB + Monitor work?
Respondus Lockdown Browser is a custom browser that locks down the testing environment within MyLS.
Assessments are displayed full-screen and cannot be minimized

Browser menu and toolbar options are removed, except for Back, Forward, Refresh and Stop

Prevents access to other applications including messaging, screen-sharing, virtual machines, and remote desktops

Printing and screen capture functions are disabled

Copying and pasting anything to or from an assessment is prevented

Right-click menu options, function keys, keyboard shortcuts and task switching are disabled

An assessment cannot be exited until the student submits it for grading

Assessments that are set up for use with LockDown Browser cannot be accessed with other browsers
Respondus Monitor builds upon the power of LockDown Browser, using a student's webcam and industry-leading video analytics to prevent cheating during non-proctored exams. Students are led through an auto-launch sequences which opens RLDB + Monitor and guides them through the pre-exam set up process including photo and ID capture, an environmental scan of their test-taking environment and live support to troubleshoot technological issues. Once complete the exam is launched and students can complete the exam.
Will training and mock exams be available?
Yes! Courses which require an online proctored exam will have a practice quiz available under the 'Quizzes' heading in MyLearningSpace which requires the use of RLDB + Monitor, so students can test out their technology and the experience prior to the day of their exam. You may also enrol in the Respondus Practice Quiz via Self-Registration in MyLearningSpace.
How can students indicate that they need accommodations through Accessible Learning?
The Accessible Learning Centre is working with eLearning to ensure time accommodations are enabled for online proctored exams. For any questions about accommodations, students should contact their Disability Consultant.
Can students take their exam(s) on a mobile phone or tablet?
If enabled, online proctored exams can be completed on an iPad which has iOS 11 or higher.
An exam cannot be taken on a mobile phone.
Day-of Exam Logistics
How do students access their exam?
Exams are accessed in the Quizzes tool within the course page in MyLS. At the starting time of the exam, students will click on the exam link and be prompted to launch RLDB and start the exam.
What if the computer crashes or the internet access fails while a student is taking the exam?
The best option, should this occur, is to immediately reboot the computer and attempt to re-access the exam. If it is still within the exam window, students will be able to reenter the exam and continue. A record of internet connectivity and movement through the exam is recorded to verify these incidents. Students may also contact examquestions@wlu.ca for support during the exam window.
Can students leave their computer during the exam?
If the student's face is missing from the camera frame at any point during the exam, this will be flagged for review by the instructor. Students are encouraged to stay in the frame throughout the duration of the exam.
What support is available during online exams?
During the pre-exam launch, students can immediately contact Respondus Support within the Lockdown Browser to get access to 24-7 live chat support to resolve issues.
In addition, eLearning has partnered with ICT to provide support during each exam window. Students and instructors should contact examquestions@wlu.ca to report any issues and ask for assistance.