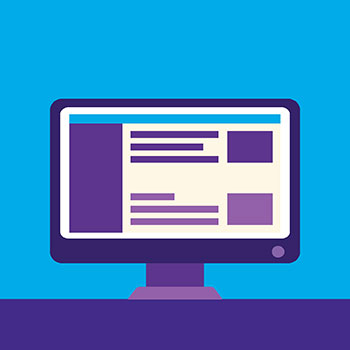 Online workshops, appointments and study groups
Whether you're in remote, online or selected on-campus courses, Laurier's student academic success teams are here to help you build your study, writing and math and statistics skills – and your confidence! – with online academic support resources.
Online Workshops
Waterloo
Academic Skills (ASk) workshops are typically offered twice each week on Mondays and Wednesdays.
Topics include:
Mastering your Time Online
The Virtual Study Cycle
Virtual Reading 2.0
Procrastinate... Later
Midterm Madness
Study Smarter, Not Longer
Preparing for Final Exams
For a complete list of workshops, schedule and links to register, visit the Study Skills and Course Support Workshops page. Students who complete 6 different workshops are eligible to add the ASk Certificate to their Laurier Experience Record.
Brantford
Learning Skills and Development has workshop offerings for both undergraduate and graduate students. All workshops take place online through Zoom.
Undergraduate students
Each week throughout the spring term, Learning Skills and Development offers you a workshop on a specific writing or study skill! Visit the "Brantford" tab on the Workshops page to explore all of the workshops currently available.
Registration is required for all workshops through the Student Success Portal. Students who complete seven or more workshops in one academic year (May to April) can request acknowledgement of participation in the Academic Skills Workshop Certificate on the Laurier Experience Record.
Graduate students
Learning Skills and Development offers four graduate student workshops in conjunction with the ASPIRE program. For more information, visit the "Brantford" tab on the Graduate Students page to view the workshop descriptions.
Writing and Study Skills Appointments and Services
Waterloo
Writing Services
Throughout the spring and summer terms, Writing Services will be conducting online writing appointments using Microsoft Teams and Google Docs. Instructions for this online procedure will be sent to you upon booking an appointment. These appointments are available to all Waterloo campus students regardless of level (e.g., undergraduate and graduate) or discipline. Appointments can be booked through the Student Success Portal.  
Study Skills and Time Management 
Join our team of Learning Consultants and Time Management Coaches for a one-to-one appointment to assess your study strategies and develop your academic skills.
Book your appointment through the Student Success Portal. You will receive an email with a Microsoft Teams meeting request within 24-hours of your appointment time slot.
Supplemental Instruction
Supplemental Instruction (SI) sessions provide additional support for students in traditionally challenging courses. Weekly interactive sessions are facilitated by senior students through Zoom. Students enrolled in SI supported courses have been automatically enrolled in a SI MyLearningSpace course where additional information can be found. All courses supported by SI will be noted in your course syllabus.
Varsity Athlete Study Hall
Our Athlete Academic Success Program will be running virtually with a combination of workshops and one-on-one academic coaching sessions. Check your MyLaurier email for an introduction from your Athlete mentor.
Brantford
Learning Skills and Development Appointments
For spring and summer, Learning Skills and Development is continuing to offer writing and study skills appointments to students through Microsoft Teams.
Please book appointments through the Student Success Portal. There are several consultation types being offered:
Online Brantford Undergraduate Individual Consultation
Brantford Graduate Student Consultation
Brantford International Student Consultation
Brantford GPA Program Meeting
Brantford Group Consultation
To access your scheduled appointments, check your MyLaurier e-mail at your appointment time for the Teams meeting link that has been sent to you.
If you no longer require your appointment, please log into the Student Success Portal to cancel. Cancellations require one business day's notice.
Online Drop-in Sessions
Brantford students can also access spring and summer term drop-in supports:
BF190/BF199 Facilitated Study Group 
Graduate Writing Group 
To participate in a drop-in session, follow these steps:
Log in to MyLearningSpace.
Select "Learning Skills and Development Online" from your course list.
On the left of the landing page, you will see the "Live Classroom" widget.
Follow the instructions to locate the correct link for the session you wish to join.
You will be directed to join either a Teams or Zoom meeting.
Online Learner Discussion Group
Students are welcome to enrol in Learning Skills and Development's MyLS discussion group for online learners. Our team will be checking the discussion to help answer any questions students may have about online learning for their courses. 
 To enrol in the online learner discussion group:
Log in to MyLearningSpace and select "Learning Skills and Development Online" from your list of courses.
Click on the "Groups" tab at the top of the page.
Click on "View Available Groups."
Select Online Learners Discussion Group and click "Join Group."
You can now access the online learner discussion forum. 
Math and Statistics Learning Support
Math and Statistics Learning Support (MaSt) continues to offer all of its multi-campus programming remotely, supporting many introductory mathematics and statistics based courses across various academic programs, as well as CP104, CP164, EC120, and EC140.
Support is provided through over 25 hours of drop-in help sessions each week, as well as homework sessions, mock tests, and review sessions. Refer to our website for the full schedule of sessions.
All sessions are conducted using Zoom, and are accessed via our "Math & Stats Learning Support – Waterloo" and "Math & Stats Learning Support – Brantford" pages on MyLearningSpace. 
If you do not see the relevant MaSt support page in your list of courses on MyLearningSpace, use the "Advanced Search" link and then change the "Semester" option box to "None" and click on the search icon. If you still don't see the MaSt support page listed, you can self-register from the MyLearningSpace homepage using the "Self Registration" link.
Students can also book appointments through the Student Success Portal.