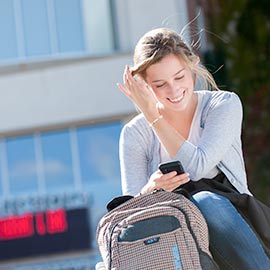 Laurier's Hawk Mobile app brings academic and campus life information to students' fingertips
The mobile application Hawk Mobile was launched in 2015 to help Laurier students and visitors find important campus information with ease.
The application, developed by Information and Communication Technologies (ICT), in partnership with Laurier Physics and Computer Science Professor Chinh Hoang and a group of computer science students, was designed to better facilitate student life on the university's campuses and meet the growing demand for mobile student services.
Hawk Mobile Features
Student information: grades and class schedules.
Links to MyLaurier email and MyLearningSpace.
An up-to-date list of class cancellations.
Interactive campus maps for the Waterloo and Brantford campuses.
A searchable event listing and calendar for academic events.
A "What's Cookin" link to dining options on Laurier's Waterloo and Brantford campuses.
Important numbers directory including: emergency support (Special Constable Service and Waterloo Regional Police), the Laurier switchboard and student services (Counselling Services, Foot Patrol, Peer Help Line, Service Laurier, and the Wellness Centre).
News feeds from Laurier Athletics, the Laurier website and the Students' Union News.
Laurier's institutional social media accounts.
Easy access links to the Laurier Library, Bookstore and Printing Services resources, and local weather.
Hawk Mobile is now available on the Apple Store, Google Playstore and Blackberry World.
For questions and support regarding Hawk Mobile, contact wluict@gmail.com.