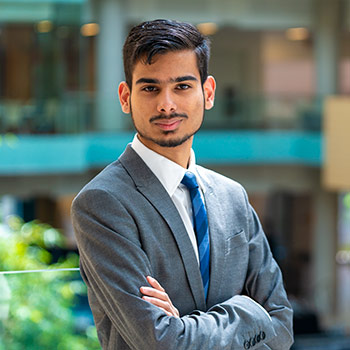 Laurier Economics student wins research prize for work on managing national debts
The Laurier Centre for Research and Policy Analysis (LCERPA) has awarded fourth-year Economics and Financial Management student Salman Hussein Hasham the 2017-18 Peter Sinclair Undergraduate Research Prize for his work on fiscal sustainability and policy, specifically focusing on "fiscal fatigue."
Hasham's research is in dialogue with earlier research by leading economists regarding the debt crisis in Europe. Fiscal fatigue refers to when a country cannot collect enough revenue to keep up with the increasing interest on their debt, thus the debt continues to grow. Hasham has suggested that the theoretical approach indicating "fatigue" may be misleading. Using a different formula, it can prove to actually be the opposite, what he calls "fiscal invigoration." Hasham describes this as the long-term shift back to a balance between a country's expenses and income, prompting debt shrinkage.
He hopes to shed light on the current ambiguity around interpreting the relationship of a government's primary balance and debt in order to assist policy makers.
"Research is a very important part of postsecondary education," said Hasham. "It allows students to think outside the standard economic classroom setting and explore theoretical frameworks."
Hasham hopes to have his research published with the support of his supervisor Christos Shiamptanis, assistant professor of Economics at Laurier. Shiamptanis' research is concentrated on fiscal sustainability issues and solvency crisis. He believes Hasham has a bright future ahead of him.
"Salman's work ethic is outstanding," said Shiamptanis. "He tackled a new research topic like a pro and learned a lot in a short period of time. I was impressed with his technical skills and creativity."
"It was an honour and a privilege to be a pupil of Dr. Shiamptanis," said Hasham. "His attention to detail in order to interpret and critique findings played an instrumental role helping me think outside the macroeconomic framework explored in class."
Hasham's research was presented at LCERPA's fourth annual Undergraduate Economics Research Symposium. The symposium rewards the excellent research done by undergraduate students, encouraging them to pursue independent research and develop skills to practically apply their findings.
"At the Lazaridis School, economics students develop the analytical and quantitative skills essential to understanding the world around us," said Tammy Schirle, economics professor and director of LCERPA. "Nominating our best students for this prize offers us an opportunity to showcase their achievements."
Honourable mentions went to the other students nominated to present at the symposium. Blake Lowe presented research on how data breaches affect financial markets. Jason Bui presented research on corruption and its impact on foreign direct investment in developing nations.
Hasham was also part of the team that won the Bank of Canada's Governor's Challenge earlier this year. He was invited by the Bank of Canada to present his research at the Canadian Economics Association's annual conference at McGill University on June 1 and 2. After, he will be working as a trader in a bank while he considers pursuing a master's degree in Economics or Financial Economics.