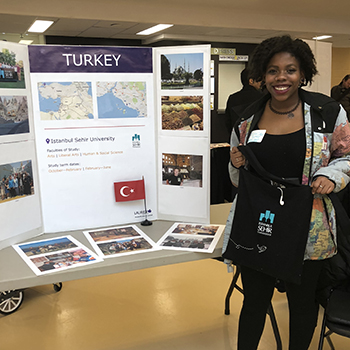 Laurier highlights global experiences during International Education Week
Where will your studies take you? How can you expand your intercultural learning right here at Laurier? Find out about opportunities to study abroad, become more globally engaged, and discover an array of cultures during International Education Week at Wilfrid Laurier University, Nov. 18 to 22. Hear from students about their journey to Laurier and the personal and life-changing experiences of Laurier students who dared to take part in an international education opportunity.
Laurier International is hosting a variety of events and information sessions on both Waterloo and Brantford campuses throughout the week.
For the full schedule with dates and times, visit Laurier International.
Brantford Campus Activities
Bhangra Dance Class
Date: Monday, Nov. 18, 7 to 9 p.m.
Location: Laurier Brantford YMCA
Learn the basic Bhangra dance, which originated in Punjab, India. The class will be taught by a trained professional and will help you improve your dance skills.
WUSC Fireside Chat
Date: Tuesday, Nov. 19, 10 a.m. to noon
Location: CB 100
Learn more about the World University Service of Canada (WUSC) Student Refugee Program from the students, faculty and staff who are involved. Discover how you can be part of the local committee.
Go Abroad Student Panel
Date: Wednesday, Nov. 20, 4 to 6 p.m.
Location: Laurier International student lounge (OM 310-1)
Hear from a panel of students who have had transformative experiences by participating in International Education opportunities at Laurier. Panelists include students who came to Laurier from Brazil, went to Turkey and France on exchange, did an internship in Ghana, took an Alternative Reading Week trip to El Salvador and participated in faculty-led programs abroad to Mexico.
Soup Lunch
Date: Thursday, Nov. 21, 11:30 a.m. to 1 p.m.
Location: Indigenous Student Centre, Brantford
Global Engagement Student Ambassadors (GESAs) and members of the Intercultural Students' Association of Brantford (ISAB) will be serving free soup to students.
From Refugee Camp to Wilfrid Laurier University
Date: Thursday, Nov. 21, 4 to 5 p.m.
Location: CB100
Hear the personal journeys of two students who arrived at Laurier from refugee camps in Jordan and Kenya.
Waterloo Campus Activities
#IAmSudan
Date: Friday, Nov. 15, 7 to 9 p.m.
Location: Paul Martin Centre
Listen to an engaging panel addressing the 2018/19 Sudanese protests. Sponsored by the Faculty of Arts, the Global Studies department, the Tshepo Institute for the Study of Contemporary Africa and the Political Science department.
International Opportunities Fair
Date: Tuesday, Nov. 19, 11 a.m. to 2 p.m.
Location: The Concourse
Soup and Frybread Lunch
Date: Tuesday, Nov. 19, 11 a.m. to 2 p.m.
Location: Indigenous Student Centre, Waterloo
Staff from Laurier International and the Career Centre will be making soup for students, free of charge. Vegetarian and vegan options will be available.
Diwali
Date: Thursday, Nov. 21, 1 to 3 p.m.
Location: The Concourse
Celebrate the Festival of Lights with the International Students' Association and enjoy free Hindu food and live performances. The Laurier Punjabi Association will be offering henna decoration on your hands for $2 per hand.
International Experience Canada
Date: Thursday, Nov. 21, 10 a.m.
Location: Career Centre, CC-001
An opportunity to hear from a representative of Immigration, Refugees and Citizenship Canada to learn more about opportunities abroad beyond those offered by Laurier. Presented in partnership with the Career Centre.
International Eats at the Fresh Food Company
Date: All week
Location: Fresh Food Company, Dining Hall
Each day, the chefs of the Fresh Food Company will offer different international food options for lunch and dinner.
Monday – Chef Kayla presents flavours of India: Lentil daal, lamb curry with spiced basmati, and sweet and sour pumpkin charry (soup);
Tuesday – Chef Darren presents flavours of Italy: Osso buco with gnocchi and homemade focaccia;
Wednesday – Chef Peng presents flavours of China: Okenomeyaki, jing jang pork and tofu wrap;
Thursday – Chef Rebecca presents flavours of Thailand: Khoa soi; and
Friday – Chef Brandy presents flavours of Ireland: Dublin coddle and colcannon potatoes.