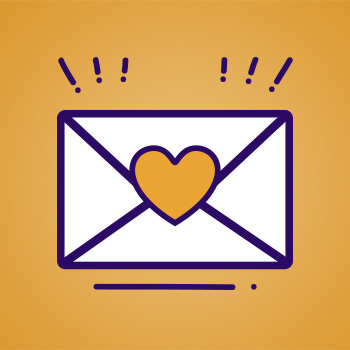 Laurier social work students encourage Golden Hawks to 'have a heart' for Indigenous youth
A group of students in the Faculty of Social Work's Indigenous Field of Study program hopes you'll think about the needs of Indigenous children in Canada for Have a Heart Day.
Have a Heart Day is a child and youth-led reconciliation event that raises awareness in an attempt to ensure that the needs of Indigenous children are being met. Laurier students Jessica Leitch, Kelly-Ray Trudeau, Michelle Lavoie and Chantel Proulx invite students, staff and faculty get involved with Have a Heart Day by writing a letter to federal politicians expressing support for Indigenous children. The group will host a letter-writing table in the Concourse on Laurier's Waterloo campus on Feb. 15 from noon until 3 p.m. Heart-shaped letter templates will be available for those interested in participating. Leitch's group will mail the letters.
Whether you're familiar with Have a Heart Day or not, Leitch and her classmates encourage the Laurier community to learn more.
"Awareness about the needs of Canada's Indigenous children and youth is key," says Leitch. "It's one thing to hear about disproportionate resources in Indigenous communities when compared to non-Indigenous communities, but understanding the implications is something completely different."
The group chose the Have a Heart Day campaign as the focus of its social action project in the course "Social Justice and Transformative Social Work Practices," lead by instructor Laura Mastronardi. The project requires students to identify and research an ongoing initiative in the community or on campus.
"Have a Heart Day is a great initiative for university students to get involved with," says Leitch. "Many of us are close in age to the youth that the campaign supports and we are in a position to bring about positive change. That is powerful."
Learn more about Have a Heart Day and other ways to show support for Indigenous children and youth in Canada