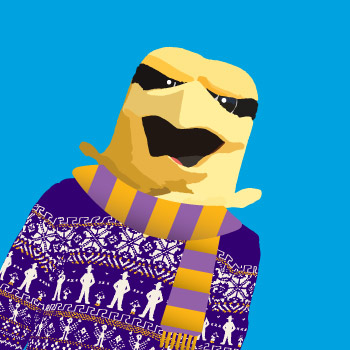 Golden ways to refresh and recharge during the holiday break 
Congratulations, Golden Hawks! You made it through fall term and the end of 2020 is in sight. The holiday break is upon us, bringing with it some much needed time to rest, refresh and recharge after a truly unprecedented year. 
The holidays can also bring their own set of challenges, which may feel amplified due to the pandemic. Below you can learn about activities and resources offered by Laurier and our community partners to support your physical, mental and emotional health during the break and as you prepare for the winter term. 
Keep Moving 
It's no secret – physical activity is good for your mind, body and soul. Check out the following YouTube channels for prerecorded workouts you can do at home. 
Mind Your Mind 
Taking care of your mental and emotional well-being will help you better navigate life. Read how in the following articles by members of the Laurier community. 
Free Essential Self-Care and Resiliency Course 
Looking to dive deeper into maintaining your well-being? Laurier offers a free online self-care and resiliency course. Developed by the university's Centre for Public Safety and Well-Being, the course provides knowledge and skills to help individuals cope with stressful situations in everyday life.  
Relax and Unwind 
From reading and writing to hiking or gaming, check out these "golden" suggestions to chill out during the break. 
Indigenous Initiatives 
Take part in a virtual smudging ceremony with Margaret Neveau, Indigenous student support coordinator at the Brantford campus. Smudging is a traditional form of cleansing using Indigenous medicines, often white sage. This cleansing helps clear the mind, calm emotions and reset the energy in a room.  
If you are an Indigenous student looking for more information about medicine use, please contact the Indigenous Student Centre at indigenous@wlu.ca. 
Graduate Student Supports and Resources 
Life as a grad student can be stressful. In addition to the above supports and resources, the following are available specifically to graduate students at Laurier: 
Lend a Golden Hand 
Helping others and giving back are great ways to boost your mood and shift your mindset. Laurier has established meaningful partnerships in our host communities that you can support.  
Give Blood 
Laurier is a Canadian Blood Services' Partner for Life. As a member of the Laurier community, your blood donations can count toward Laurier's annual pledge. If you are able to donate blood, roll up your sleeve and help us beat our pledge goal for 2020 and 2021. Book an appointment online and add Laurier's partner ID: WILF001529. 
Help an Animal in Need 
Laurier is part of animal foster programs at the Brant County SPCA and Humane Society of Kitchener Waterloo and Stratford Perth. Learn how you can help animals in need in our host communities. 
Need more inspiration?
Check out what other members of the Laurier community have done to contribute during the pandemic. 
Get Ready for Winter 2021 
An extended holiday break means the winter 2021 term begins Monday, Jan. 11. Take some time to prepare and plan for a successful term.