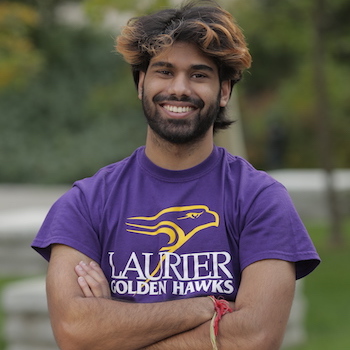 Student leaders helping Laurier inspire prospective students in new marketing campaign
Do you remember the stress of deciding where to apply to university? From choosing the right program and campus to the anticipation of getting accepted. Also, the thought of starting life in a new place can be overwhelming. It's a long road that can ultimately lead to the best years of your life.
High school students are in the middle of surviving application season — they're choosing where to apply to university.
And without in-person open houses and recruitment events to showcase all that Laurier has to offer, the university is heavily relying on digital marketing to grab the attention of prospective students, encouraging them to apply to be part of our Golden Hawk family.
There's no one better to tell our story than you — Laurier students!
Meet Laurier's student leaders who are featured in the videos:
A huge shout out goes to our student leaders who are participating in the campaign. Thank you for sharing your Laurier story and inspiring incoming Golden Hawks!
If you're speaking to a high school student about life at Laurier, share your Laurier story. There's no better ambassadors for our university community than you!