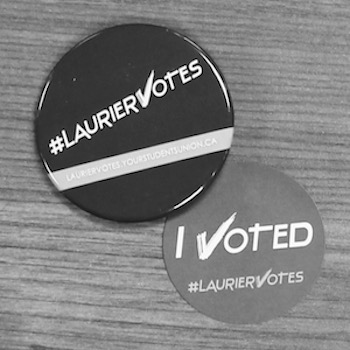 Everything thing you need to know about the Students' Union Election
All information on the Students' Union Elections can be found at lauriervotes.yourstudentsunion.ca or the Students' Union social media accounts:
This includes past recordings of open forums and debates, links to upcoming events, candidate platforms and referendum questions being asked of students this year.
Important Dates for Election Week
Jan. 25 – Presidential Debate
Jan. 26 – Instagram Live with Presidential Candidates
Jan. 27 to 29 – Voting Days
Jan. 29 – Voting Results and Bingo
Presidential Debate
The final presidential debate takes place Jan. 25 from 7 p.m. to 9:30 p.m. This is a drop-in event where undergraduate students can join the Zoom call and ask questions of the candidates. You can ask questions at the event, or submit to @lauriervotes2021 in advance.
Instagram Live
Visit @yourstudentsunion on Jan. 26 to hear from your presidential candidates one last time before the vote starts.
Voting Days
Voting days are Jan. 27, 28 and 29. You will be emailed the link to vote – the link will also be available on LORIS.
Results Night
Results will be announced on Jan. 29 as part of an Elections Results night. This will encompass Bingo with Twan from 8 to 10 p.m. and results announced at 10 p.m. Tune into this event at: bit.ly/wilfsvirtual. This is where you find out who your 2021/22 representatives will be!