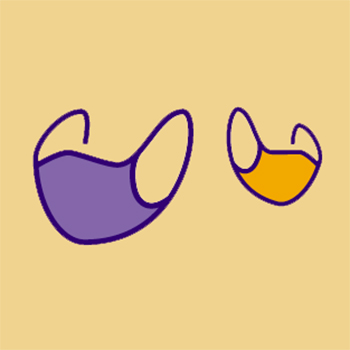 Student masking requirements at a glance
If you haven't read Laurier's face-covering policy recently, here's what you need to know.
Who must wear a mask?
Students, faculty, staff, visitors and contractors.
What type of mask must I wear?
A medical or multi-layer non-medical mask that securely covers the nose, mouth and chin. 
When must I
wear

my mask?

Anytime you are in a Common-Use Indoor University Space:
classrooms and labs
study spaces and meeting rooms
lounges and common areas
residential common spaces
food service facilities and lunchrooms
lobbies, hallways, corridors, elevators and stairwells
retail locations, student service locations and administrative spaces
washrooms
As a student, masks must be worn in these spaces even when you are two meters from others. The face covering policy applies even if you are on campus with your roommates or other close contacts.
When can I
remove

my mask?

Limited circumstances allow you to remove your mask while on campus:
While outdoors and distanced.
Temporarily while in class or study spaces only to take a drink, but you must immediately put your mask back on.
While in private areas on campus, such as personal rooms/suites in residences (this does not include residential common spaces).
While eating or drinking in a designated food services facility and distanced from other tables.


Students are permitted to eat at the same table in these spaces with other close contacts.
Food is not permitted in study spaces and classrooms. They are not designated as a food services facility.
See the face-covering policy for details on accommodations and exemptions for sports, performances, and emergencies.
Masks still play an important role in helping to keep our community safe, alongside vaccinations, distancing, hygiene, and cleaning.
Working on Campus?
Employees should review the face covering policy to understand exceptions for offices and vehicles.
Those instructing a class have the option of removing their mask at their own discretion if they can maintain two metres distance from others.
Those working in open offices space who can maintain two metres distance from others are not required to wear a mask. When they leave their personal workspace, they must put a mask on.