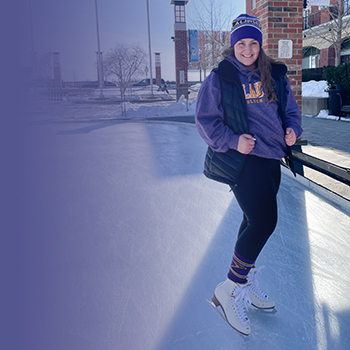 Laurier Skate Library helps Brantford campus students take to the ice
Want to go skating, but don't own a pair of skates? Students on Laurier's Brantford campus can borrow skates for free from the new Skate Library.
Students 18 years of age and older can borrow a pair of skates from the Level One Lounge in One Market. Figure skates and hockey skates of various sizes are available.
Students can access the skates on a first-come, first-served basis from Monday to Thursday from 8:30 a.m. to 7 p.m. and Friday from 8:30 a.m. to 4:30 p.m.
"Skating is a quintessential Canadian pastime," says Beth Sanders, the campus experience coordinator at Laurier's Brantford campus. "I'm excited that we can offer this experience to our students as a way to get outside and take a break from their studies."
The campus experience coordinator's role is to bridge the Laurier campus and Brantford community in meaningful ways that contribute to the overall vibrancy of downtown Brantford. The Skate Library is one of many student-experience projects initiated by the campus experience coordinator.
The Skate Library project was funded by Laurier's Student Life Levy – which supports projects that enhance undergraduate student experiences – and was created through a partnership between the campus experience coordinator, Athletics and Recreation and Dean of Students Office.