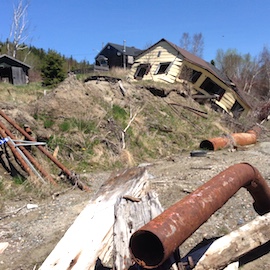 Laurier, Town of Ajax sponsor student competition to mitigate impacts of intense rainfall events
Extreme rainfall events can be devastating for communities, causing damage to infrastructure, disrupting daily life and, at times, threatening public safety.
Wilfrid Laurier University and the Town of Ajax will sponsor Rain It In, an annual competition that challenges post-secondary students to develop innovative solutions for communities to mitigate the impacts of intense rainfall events. The 2022 competition, to be held virtually between Jan. 24 and March 31, will focus on developing solutions for the Town of Ajax, which has identified the need to address the impacts of more frequent and intense weather events, aging stormwater infrastructure and urbanization.
Interested students are invited to register a team of three to six members in the competition by midnight on Jan. 23. Laurier students can form teams with peers at Laurier or those studying at other colleges or universities in Canada. There is no charge to participate in the competition.
During the competition, teams will work on their projects, liaise with an assigned industry mentor and attend workshops focused on water-related issues and skills development. At the end of the competition, students will pitch their solutions to a judging panel. After the competition, the team behind Rain It In will support student teams interested in pursuing the development of their solution by connecting them with resources, mentors and programs. Previous Rain It In winners and their projects can be viewed online.
"Rain It In is an excellent opportunity for students to develop future-ready skills by collaborating on solutions to real-world issues faced by a community partner," says Eric Meliton, manager of Laurier's Sustainability Office and competition liaison. "Mitigating the impacts of climate change requires a collaborative, multi-disciplinary approach and students from all academic backgrounds are invited to participate."
For more information about Rain It In or entering a team, email sustainability@wlu.ca.