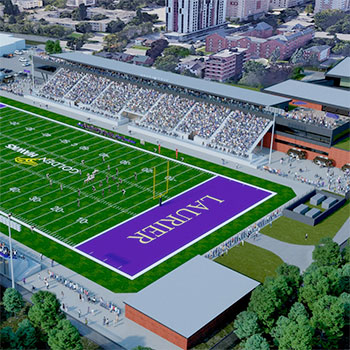 Laurier launches new era of health and wellness with vision for revitalized Seagram Drive facilities
After celebrating the rejuvenation of Alumni Field at its official opening April 20, the Wilfrid Laurier University community looks forward to the next steps in the exciting multi-phase Seagram Drive Athletics and Recreation redevelopment project. The university's Board of Governors recently approved Phase 1 of the project, which sets in motion the first of many proposed improvements to enhance athletic excellence and community engagement with top-level facilities – and launch Laurier's Waterloo campus into a new era of health and wellness.
"Our students deserve more," says Kate McCrae Bristol, acting director of Athletics and Recreation. "We have outgrown our facilities and are looking to build a space to serve our expanding intramural and recreational programming and our varsity athletic programs as they compete at the national stage. With this first project phase, we're gaining momentum toward our bold vision for the future of Laurier athletics and recreation."
The university started by removing the aging bleachers from the 66-year-old University Stadium and will now construct a new field and turf surface, along with a new scoreboard and lighting, after the fall 2023 playing season ends.
Subject to further Board of Governors approval and donor support, the project will unfold in phases, including prioritizing a winterized dome infrastructure, reconstructed grandstands, and ultimately a new facility housing a double gymnasium, high-performance athletic training area and multi-use student spaces.
Many Laurier students have been part of historic moments and formed their own memories at the Seagram Drive facility over the years. Some met new friends at Orientation Week events; many cheered on the Golden Hawks while wearing purple and gold at Homecoming; while others celebrated their own intramural championships.
Just as students have been part of the facility's history, they are also key partners in its future. Undergraduate students and graduate students are collectively contributing $2.5 million to the first phase of the redevelopment project.
"The Wilfrid Laurier University Students' Union and the Graduate Students' Association understand that students do not have sufficient access to the facilities necessary for popular recreational and intramural programming so critical to a healthy lifestyle," says Shane Symington, Students' Union president and CEO. "Our contribution to the Seagram Drive project continues our legacy of supporting campus projects that are critical to ensuring the best possible student experience at Laurier. We encourage Laurier alumni and other donors to join us in creating a world-class facility in the Region of Waterloo."
The proposed new facility, subject to governance approval and fundraising support from donors for future phases, will also feature student lounge areas, bookable student spaces, a food outlet, gymnasium and training spaces, and a new high-performance centre that will be available to all students and set Laurier varsity teams up to compete for more championships.
The full redevelopment vision would mean housing more than 3,000 fans in the new grandstands, four-season access to 76,000 s.f. of recreation space and over 1,500 hours of field time to athletes.
"Expanding our conceptualization of how campus space can be used is an important aspect of this project," says Jeremy Wagner, Graduate Students' Association president and CEO. "We believe the unique needs of graduate students, for example child-minding support and needs, will be strongly considered as our university partners take a student-centred approach to space design and program planning."
Over the next few months, the university will engage with donors, community members and students to discuss future project phases that will meet student needs and create lasting memories for the next generation of Golden Hawks.
Find out more about the project, view renderings and find out how you can get involved.