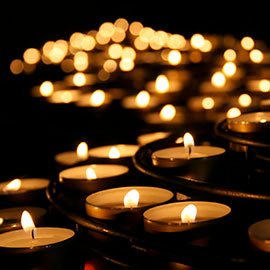 Fire safety tips for the holidays
The holidays are a time for get-togethers and celebrations with family and friends. Keep you and your guests safe with the following fire safety tips from Waterloo Fire Rescue and the Brantford Fire Department.
Fire Safety Tips for Entertaining
If you're cooking, stay in the kitchen while food is on the stove.
Have a portable fire extinguisher in your house.
Keep lit candles away from anything that can burn and out of the reach of pets and children who may knock them over.
Blow out candles before leaving the room or going to bed. Better yet, consider using battery-operated or electric flameless candles.
Drink responsibly. Cooking or smoking food while under the influence of alcohol is too often a contributing factor in fatal fires.
If you smoke, smoke outside and butt out in large, deep ashtrays.
Test your smoke alarms and carbon monoxide detectors to make sure they are working.
Develop and practice a fire escape plan so that everyone in your home knows what to do if the smoke or carbon monoxide alarms sound.
Fire Safety Tips for Decorating
Place your holiday tree on a stable base away from any fireplaces.
If you have a real tree inside, keep it well watered at all times to prevent it from drying out.
Check all sets of decorative lights before putting them up and discard any damaged sets.
Have a safe and happy holiday break, Golden Hawks!