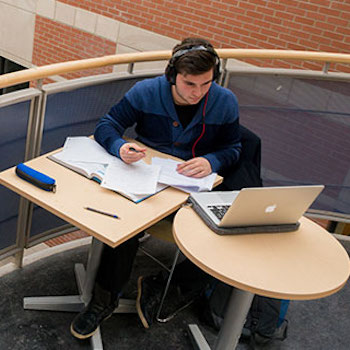 Five tips for spring exam prep
Spring term is almost over and the final exam period will soon be here. If that makes you sweat, stay calm (and cool), Golden Hawks! Here are five tips to ensure your spring final exam period is a success.
1. Review the exam schedule
The spring final exam schedule is available online. Be sure you know the date, time and location of your exam or exams and plan to study accordingly. Don't forget to bring photo ID if you are writing an online exam on campus.
2. Develop study skills with in-person help
As a Laurier student, you have access to study supports and resources, including learning strategists, writing consultants and academic skills workshops. Log in to the Student Success Portal for a complete list of upcoming workshops or to book an appointment.
On the Brantford campus, Writing and Study Skills Services is located at 45 Market St., in the Market Place building. Waterloo campus appointments are held on the second floor of the Peters Building in the Teaching and Learning Commons.
3. Access online webinars and printable handouts
You can also prepare for exams by utilizing online webinars. Developed by Laurier learning strategists, the webinars provide in-depth information and advice to help you best prepare for exams. Topics covered include exam and test-taking strategies, studying in a group and studying individually. Laurier webinars and their materials are free for students to access at any time.
Additional online tools and downloadable handouts are available on these topics, as well as writing, oral presentations, time management and study skills for math and statistics.
4. Take study breaks
It's OK to take a break from the books. Your brain needs time to rest and absorb the new information you're giving it. Try organizing studying into smaller chunks of time, approximately 45- to 90-minute blocks. If you find you need a break sooner than 45 minutes, take it. It's all about doing what works best for you.
5. Seek help if you're feeling stressed
Final exams can be stressful. If you're feeling anxious or stressed, talk about it with a friend, partner, family member or someone else you trust. You can also make an appointment to speak with a counsellor at your campus student wellness centre.
Exercise, meditation, proper sleep and nutrition can also contribute to overall wellness. Hit the gym, spend some time outside, eat nutrient-dense food and get some rest.
If you need urgent emotional or mental health support, view the list of emergency resources on campus and in the community.