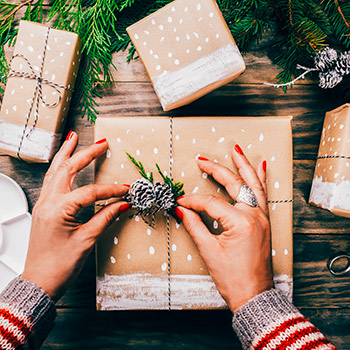 Five tips to have a sustainable holiday season
The holidays can be a time of more, more, more, with much of the excess ending up in the landfill. Cut the chaos and the waste with these five easy-yet-effective ways to make the holidays eco-festive.
1. Responsible Gifting
While holiday sales may tempt you to buy for everyone who's not on your list, consider the impact that excess purchases will have on the environment. Extra packaging, gift wrap and potentially the gift itself can end up in the landfill.
If you are going to give gifts, consider:
Giving the gift of life by making a blood donation during December as part of Laurier's community partnership with Canadian Blood Services.
Buying items that are locally produced or sustainably sourced. Check out the Robert Langen Art Gallery's annual Holiday Art Market at the Laurier Library from Dec. 2-6 for local (and golden!) gift ideas.
Eco-friendly gift ideas like stainless steel travel mugs or straws, available at the Laurier Bookstore and the Stedman Community Bookstore.
A bee hotel from student-led social enterprise PolliNation. Bee hotels are wooden, birdhouse-like structures designed to attract native bee species.
Making a charitable donation to a social or environmental charity, or support one of the 2019 HAWKstarter campaigns.
Experience gifts reduce waste and offer the added bonus of spending time with the recipient.
Giving the gift of your time is also thoughtful, eco-friendly option. Visit the Volunteer Action Centre website for opportunities in Waterloo Region. For opportunities in Brantford, visit the Brant Regional Association of Volunteer Administrators website.
2. Re-think Wrapping
Pretty papers and all the trimmings look nice, but are they really necessary? This year, consider giving your gift as-is or re-using gift bags. If you're crafty, you could try making reusable cloth gift bags from old clothes, pillowcases or bed sheets. Laurier's Library offers maker sessions on Mondays from 1 to 4 p.m. Contact Darin White to arrange a time to use the sewing machine.
If you are going to use gift wrap, use papers that are made from 100 per cent post-consumer recycled paper, are FSC-certified or are biodegradable. Use yarn or twine instead of plastic ribbon and bows that don't break down.
3. Forgo the Food Waste
There are many ways to make your holiday entertaining eco-friendly. Plan your quantities accordingly, especially for large gatherings. If everyone is contributing a dish, there will likely be more than enough food to go around. If there are extras, send them home in reusable or compostable containers instead of plastic food bags. Compost any food that won't be consumed by you or your guests.
If you entertain with disposable serving ware, consider using biodegradable plates, napkins or cutlery made from bamboo and other renewable sources.
4. Be Energy Efficient
With winter temperatures upon us, it can be tempting to crank up the thermostat. Instead, put on a sweater or add an extra blanket to your bed. Turn off any lights that don't need to be on (including outdoor holidays lights before bed).
Use LED bulbs for holiday décor. It costs less than one dollar to power a holiday tree with LED lights for 12 hours per day for 40 days.
5. Deliver Holiday Greetings Differently
Greeting cards are nice to receive but once the holidays are over, the cards are either thrown out or end up in a recycling bin. Last year, Canadians purchased more than 2.6 million greeting cards; that adds to a big pile of potentially unrecyclable paper.
This year, consider sharing your holiday message with a phone call, text, email or video message. If you are going to send paper cards, look for ones that are made from recycled materials or are biodegradable.