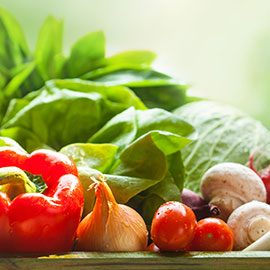 Food Culture
As a university student, it becomes a skill to seek out budget-friendly food sources. The following are a sample of Laurier's food initiatives to keep on your radar.
Soup and Frybread Lunch
All are welcome to the free lunch hosted once a week by the Indigenous Student Centre. You can't go wrong with hot soup and delicious frybread on the menu. Checkout the events calendar for campus-specific times and locations.
Department Socials
Faculty often host department-specific social events. Although chatting it up with your professors can be intimidating, there is often free food. Stop by, say hi, and grab a bite to eat on us.
Food Bank
Laurier's Food Bank, servicing both Waterloo and Brantford campuses, provides food deliveries on a 24/7 basis to support the dietary and nutritional needs of Laurier students. All Laurier students can confidentially use this service to ensure they're eating healthily when overwhelmed, stressed or financially strained.
Farmer's Market
Are you seeking convenient access to budget-friendly, locally grown produce and baked goods? Be sure to check out Laurier's Farmer's Market, centrally located in the Waterloo campus concourse every Wednesday from 9 a.m. to 3 p.m.
University life can be hectic. Laurier is here to help with a range of initiatives that provide healthy food choices on a student budget.