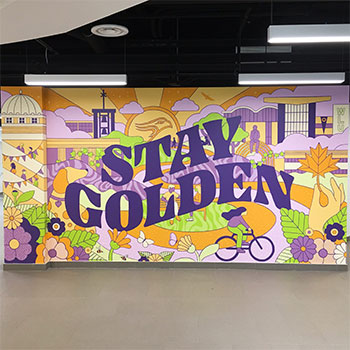 Funding for student life projects
Have you seen the brand-new mural that was just painted in the Welcome Centre? This cheerful addition to our campus was made possible by the Student Life Levy, a fund that is both supported by and used to improve the lives of Laurier students.
Every year, faculty, staff and students are invited to apply for funding for special projects that enhance undergraduate student life. The fund was developed to support ideas that couldn't otherwise happen and is administered by the Wilfrid Laurier University Students' Union. Since the 1980s, Laurier undergraduate students have contributed approximately $20 million toward dozens of meaningful initiatives, including:
Laurier Cares Week
light therapy lamps
upgrades to the Brantford Student Centre lounge
volleyball equipment for the Athletic Complex
educational aids for the Faculty of Music
Social Innovation Summit
Best Buddies Laurier semi-formal
If you have a great idea to make life better for your fellow Laurier students, apply now for support from the Student Life Levy. The application system is active year-round and reviews happen once per semester in March, July and November.
For eligibility requirements or to apply, visit Alumni Relations' Student Funding page.
To be considered for the winter 2020 review, please submit your application by Feb. 7.