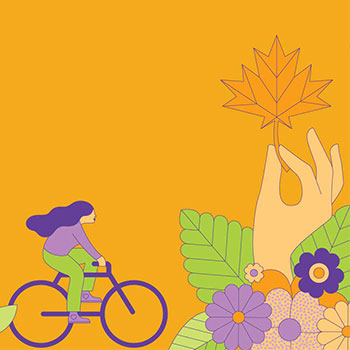 Get to know Laurier's student website
Whether you're returning to campus or it's your first year here, students.wlu.ca is your gateway to all the information you need as a Golden Hawk.
Built for You
You spoke, we listened. If you're a returning student, you'll notice the students.wlu.ca home page has been improved for the better. The new home page was designed with the help of Laurier students and we're constantly working to improve the content, features and design.
 Stay updated. 
Our banner features a snapshot of top news or timely information that you should take note of.
 What you need to know. 
The what-you-need-to-know articles are regularly updated to provide you with essential information and helpful resources, when you need it.
 Tools at your fingertips.
Find the Quick Links or Web Tools components on the home page for easy access to the tools you use every day, like LORIS, My Learning Space and Webmail.
 Get involved. 
Fall 2021 will be a hybrid of remote and in-person student experiences. There are countless ways to make the most of your golden hawk experience from home or on campus. Find out what's happening at Laurier by checking out our events feed.

 Access common resources.
Check out common resources you may want to check back on throughout the term, such as the Remote Learning Hub or COVID-19 information.
 Get the latest news.
Catch up on top news from across the university. Our Latest News feed is curated news that is directed to our students. You can visit the News Hub to read more.
Make Your Website Personal
The current students website is for you, our Laurier student. To help make it your own, tell us more about yourself.
Learn more about personalizing your home page and how to use the MyLaurier tab.
Tell Us What You Think
We want to hear from you. As we continue our work to improve the students' website, we want your input on what works and what doesn't. Participate in user testing sessions, where you can test the functionality of our website and let us know what's on your mind.
Complete our UX Testing Sign-Up form and we will connect with you once a testing opportunity becomes available. 
Dig Deeper
Use the navigation bar at the top to dig deeper into topics that interest you and travel easily between the different sections of the website. You can also use our search tool to find exactly what you're looking for.