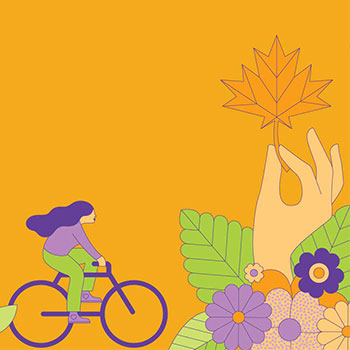 Get to know Laurier's student website
There's a lot going on. We got you.
Whether you're returning to campus or it's your first year here, students.wlu.ca is your gateway to all the information you need as a Golden Hawk.
Built for You
The home page was designed with the help of Laurier students and we're constantly working to improve the content, features and design.
 Stay updated. 
Our banner features a snapshot of top news or timely information that you should take note of.
 What you need to know. 
The what-you-need-to-know articles are regularly updated to provide you with essential information and helpful resources, when you need it.
 Tools at your fingertips.
Find the Quick Links or Web Tools components on the home page for easy access to the tools you use every day, like LORIS, My Learning Space and Webmail.
 Get involved. 
There are countless ways to make the most of your golden hawk experience on campus. Find out what's happening at Laurier by checking out our events feed.

 Access common resources.
Check out common resources you may want to check back on throughout the term.
 Get the latest news.
Catch up on top news from across the university. Our Latest News feed is curated news that is directed to our students. You can visit the News Hub to read more.
Personalize It
Make students.wlu.ca 100% yours by customizing the tools available in the My Laurier tab to reflect your program, interests and academic needs. You'll find the My Laurier tab in the top right of your screen. It allows you to:
View your class schedule by term.
Set five Quick Links to webpages you visit often.
Customize the calendar feed to show events hosted by departments or areas that you're interest in.
To access your My Laurier tab and its settings, log in with your username and password.
Set It and Forget It
The first time you log in to students.wlu.ca, you will go through a simple four-step profile creation process. This set-up will help you set your preferences including home campus, level of study and customized quick links. For example, once you set your campus location, any content related to your campus will display first, including any pages that contain information by campus.
Because the site saves your preferences, the information you need is easier to find when you return. You can always edit or update your preferences and quick links in the My Laurier tab and selecting Manage.
Dig Deeper
Use the navigation bar at the top to dig deeper into topics that interest you and travel easily between the different sections of the website. You can also use our search tool to find exactly what you're looking for.
Setting Yourself Up for Academic Success
Studying and Academics: Access impactful support areas such as academic advising or student success supports.
Registration and Finances: Stay on top of important things like registering for courses or applying for financial aid.
Taking Care of Your Well-Being
Wellness and Recreation: Prioritize yourself! Check out the wealth of resources and activities you can take advantage of to keep your wellness in check. 
Embracing Life at Laurier
Student Life: Learn more about life at Laurier. Take advantage of resources available to you such as the Dean of Students office, residence and much more.
Services and Spaces: From the Bookstore to tech support, find the essential services you need.
Engaging with the Community
Work, Leadership and Volunteering: Explore job opportunities, volunteering and community engagement programs to enhance your academic experience.
Tell Us What You Think
We want to hear from you. As we continue our work to improve the students' website, we want your input on what works and what doesn't. Participate in user testing sessions, where you can test the functionality of our website and let us know what's on your mind.
Complete our UX Testing Sign-Up form and we will connect with you once a testing opportunity becomes available.