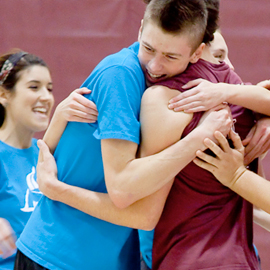 How to be active at Laurier
You know what they say about all work and no play. Laurier Athletics and Recreation offers a range of programs, in state-of-the-art facilities, to help you fight the freshman 15 and maintain a healthy work-life balance.
Club Sports
Get up and get active. Our club sports offer a unique sporting experience. Participate in a variety of competitive and recreational clubs that will have you saddling-up for equestrian or hitting the slopes with the ski and snowboard club. Whatever your interest, we've got you covered.
Intramurals
Share some laughs with fellow Golden Hawks and participate in our award-winning intramural program. Intramural registration is open to the entire Laurier community. Whether you're up for dodgeball, water polo or ice hockey, there is an intramural sport for everyone. Did someone say free food? That's right, your dedication and positive attitude could dub you a member of Pizza Pizza's Intramural Team of the Week — a title that comes with free pizza.
Fitness and Recreation
Take your workout to new heights with our indoor rock climbing wall. Or, for something more down to earth, attend an instructional dance class. Need a little extra motivation to get you through your workout? Checkout our group exercise classes including: Muscle Pump, Yoga, Pilates and Cardio Kickboxing. You can purchase a term pass or a single-day drop-in pass.
Have you heard? The new Laurier-Y athletic complex is open to Brantford students on Sept. 14. 
Varsity Sports
Cheer on our Golden Hawks as they compete in 13 different sports in the Ontario University Athletics conference – our varsity teams have won 14 national and 69 provincial championships. Event schedules and tickets are available through the Athletics and Recreation website.
Academic Support
We want to help you achieve success both in the classroom and on the field of play. The Athlete Academic Success Program provides Laurier's varsity athletes with academic assistance that accommodates training and competition schedules. The program includes study halls, workshops and Athlete Academic Mentors.
The Hawk Shop
Break a sweat and look good while doing it. The Hawk Shop, conveniently located in the Laurier Athletics Complex, has everything an athlete might need — from energizing snacks to coveted Laurier swag.
Whether you attend a stress-relieving instructional class or unleash your competitive side, Laurier provides countless athletic opportunities to help you stay fit and have fun.