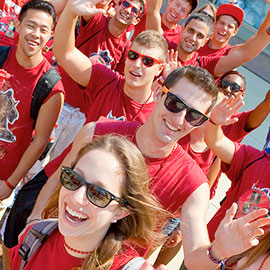 Laurier welcomes first-year students with a full week of Orientation events
Wilfrid Laurier University is welcoming a new class of first-year students to its Waterloo and Brantford campuses with Orientation Week events taking place Sept. 1 to 7.
Orientation Week, organized by the Wilfrid Laurier University Students' Union, is an opportunity for students to learn their way around the two campuses, meet new people and become involved in student life.
"Student leaders, volunteers, staff and faculty have been preparing in earnest all summer to make sure incoming first-year students have the best possible start to their university careers," said David McMurray, vice-president of Student Affairs.
"We want students to start their first semester feeling prepared and knowing that they are supported both academically and personally. We are thrilled to welcome our newest Golden Hawks to the Laurier family and hope they have an unforgettable first week and an extraordinary learning journey throughout their time here."
What's Happening at O-Week
Some of the week's activities will be unique to each campus and some are shared. In both Waterloo and Brantford, firefighters will ignite and suppress a fire in a model bedroom to show how quickly a fire can spread and demonstrate the importance of smoke alarms and having an evacuation plan.
There will be two carnivals, one in Waterloo on the Northfield location on Sept. 4, featuring classic carnival rides, buskers and a roller rink, and one in Brantford in Harmony Square on Sept. 6, with a henna artist, caricaturist and giant LED swings.
Mike Domitrz, author and co-founder of the Date Safe Project Inc., will present Can I Kiss You?, an interactive presentation tackling dating, intimacy, consent and sexual assault, in both Waterloo and Brantford.
On Shine Day, Sept. 7, students will wash cars in Waterloo, Kitchener, Cambridge and Brantford to raise funds for Cystic Fibrosis Canada.
Throughout the week, students will also learn about safety and support services at Laurier and resources to help them balance their physical and mental health. "Studenting 101" as well as faculty-specific academic sessions will provide students with advice and resources for academic success.
"Student life defines the privilege of being a Golden Hawk," said Zemar Hakim, president and CEO of the Wilfrid Laurier University Students' Union. "There are countless opportunities for students to enhance their own experiences and the experiences of others."
Select Brantford Campus Events
The Mayor's Brunch, a Brantford Orientation Week tradition, takes place on Sept. 4, with Mayor Kevin Davis and local councillors serving brunch to first-year students in Harmony Square as an official welcome to Brantford.
Students can sample the flavours of the city with Taste of Downtown, presented by restaurants from across the city, on Sept. 5 and 6 from 11 a.m. to 1:30 p.m. in the Research and Academic Centre West lobby.
Select Waterloo Campus Events
A concert on Sept. 5 from 7:30 p.m. to midnight at the Athletic Complex will feature Toronto hip-hop recording artist Jazz Cartier. There will be more music at headphone disco on Sept. 3 in the quad, where students can switch between DJs using wireless headphones. For those looking for a quieter night, students can play games, including virtual reality games, in the Turret.
Positive Pulse on Sept. 3 is designed to help students learn about the importance of physical and mental wellness. Students can join a fitness class, tour the Athletic Complex and learn about resources on campus. 
For more information about Orientation Week in Waterloo and Brantford, see the Orientation Week schedules.
International and Graduate O-Weeks
For international students, International Orientation will take place Aug. 30 to Sept. 2.
Graduate Student Orientation, for master's and PhD students, will take place Sept. 3 on the Waterloo campus.
Move-in Day Information