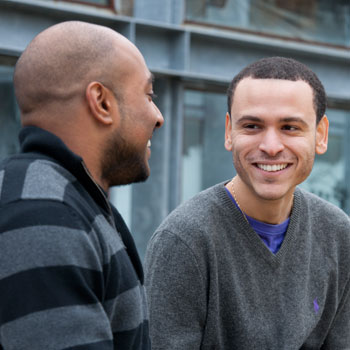 Resources transfer and mature students should check out
As a transfer or mature student, you have access to all of Laurier's student services - and then some! Here are nine multi-campus resources that will help you and soak up the Laurier student experience.
Academic Advising
Academic advising is for all students. Their mission is to help you to create, refine and follow the academic plan that is best for you. Meeting with an academic advisor is especially important if you have transfer credits to apply to your degree. Make an appointment to meet with your academic advisor to ensure that you are properly applying your transfer credits to count towards your degree requirements. 
Transfer Credit Assessments
You can access your transfer credit assessment on your LORIS account, or by meeting with an academic advisor. If you'd like to request an additional assessment of your courses, or would like to be considered for Laurier course-equivalencies where you received elective credits, email transfercredit@wlu.ca. Include the course information from your previous institution as well as your Laurier ID number. It can take up to two weeks to receive an updated assessment.
Accessible Learning Centre
The Accessible Learning Centre helps students with disabilities to reach their full academic potential. The centre supports and encourages students' independence and self-determination with a variety of services and resources. Eligible students can register with Accessible Learning to access disability consultants, assistive technology, tutoring services and student support sessions.
Learning Strategies and Study Skills
Study Skills and Course Support will help you excel in your academic studies. Learn to take better notes, practice better review strategies, and improve your written and oral communication.
Schedule a consultation to establish a plan for your semester – bring your course outlines and a staff member will help you create a plan to stay on track with all your readings and assignments.
LOCUS
LOCUS (Laurier Off-Campus University Students) is a program that is designed for students who are living off-campus during their first year at Laurier. The program provides academic, social and personal support as well events that are specifically geared towards transfer students and mature students. Each LOCUS community is led by an upper year student that will act as a resource as you begin your education at Laurier. 
Math Assistance Centre
The Mathematics Assistance Centre will help you transition to university-level mathematics. Located on the Waterloo campus, the Mathematics Assistance Centre offers a variety of in-person services – like consultations, workshops and course-specific mock exams.
Not on the Waterloo campus? Check out the online services like their math study tips.
Service Laurier
Service Laurier is your one-stop shop for all your Enrolment Services needs. It's the best place to visit if you have questions about your academic records, financial account, financial aid and course registration. Service Laurier is available to answer your questions Monday to Friday, 9:30 a.m. to 4:30 p.m.
Student Wellness Centre
The Student Wellness Centre enhances the health and wellbeing of Laurier students. With specialities from a diverse, multidisciplinary team, the Student Wellness Centre offers services like:
doctors and registered nurses
counsellors
chiropractic, massage and physiotherapy
a registered dietician
Writing Support
Writing support can assist your transition to university-level writing. Schedule an individual consultation, sign up for a workshop, check out the abundance of online writing resources. Drop-in consultations are also available for those quick, need-to-know questions.
Contact Us:
Christina Perris, Pathways and Transfer Student Initiatives Coordinator