 What graduates are saying about the Master of Arts in Communication Studies
Laura Neil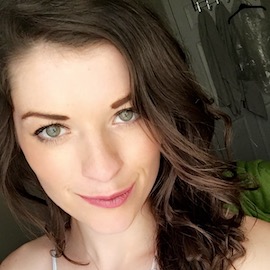 I hold an Honours BA (2016) and an MA in Communication Studies (2017) from Wilfrid Laurier University. During my time at Laurier, I worked as a teaching assistant for first year Communication Studies courses (CS100 and CS101). I also worked as a research assistant for two SSHRC-funded studies, which allowed me to present my work at the National Society for the Sociology of Sport conference in Windsor, Ontario. As one of the program's first co-op students, I was able to work as a communications officer for the Wellington Health Care Alliance, a rural healthcare network consisting of three northern hospital sites located in Fergus, Mount Forest and Palmerston, Ontario. Through this position, I gained first-hand experience in the field of health communication that was directly applicable to my MRP, which analyzed m-Health application, Carrot Rewards, to address the ways in which we construct, conceive of and practice health in a digitally-mediated environment. Through the program, I was able to refine my research, analytical and communications skills while developing collegial relationships with faculty and classmates, that helped secure my current position as a doctoral candidate in the Social and Behaviour Health Sciences Program at the University of Toronto.
Kathy Dobson
The MA program in Communication Studies at Laurier helped prepare me for my academic and professional goals in numerous ways, thanks to immensely supportive faculty who contributed to my learning and development. I received guidance throughout the entire process of working on my Major Research Paper, which focused on the political economy of WikiLeaks as an alternative media platform. This helped further develop my research and academic writing skills, setting me up for future success in my PhD applications; I am now pursuing my PhD at Carleton University's School of Journalism and Communication. Before starting the MA program in 2012, I had been out of school for a number of years working as a journalist and publishing a book (With a Closed Fist: Growing Up in Canada's Toughest Neighborhood). I could have had a much more difficult transition back into the academic world had it not been for the amazingly supportive atmosphere at Laurier.
Josh Hissa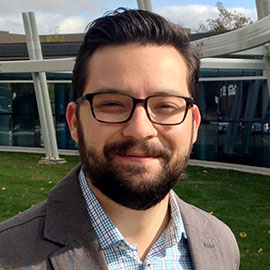 In Laurier's MA program in Communications Studies, I learned not only to see the world in a different way, but also how I could make it a better place. With instruction and guidance from leading academics and accomplished activists, I found myself in a community of people engaged in creating change. It inspired me and I've been fortunate enough to find incredibly rewarding work supporting the social sector since graduating in 2013. Now, I am the Chief Operations Officer of CANGO Group, a social enterprise that serves foundations and charities across Ontario. I lead our strategic communications consulting and campaign development projects for clients like the United Way, Family and Children Services Foundation, and the Ontario Volunteer Centres Network. Motivated by a directed study undertaken during my master's, I became involved with Basic Income Canada Network, creating their communications strategy and leading their 2014 communications team. I was a senior campaign strategist for Cameron Dearlove's 2014 run for Waterloo Regional Council and since launched Basic Income Waterloo Region in 2015 alongside a team of local activists.
Jenna Jacobson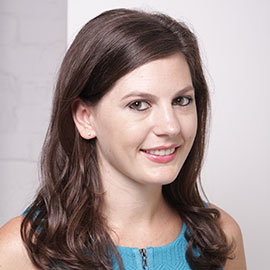 @jacobsonjenna
From studying moustaches, pink ribbons, and the marketing of cancer philanthropy to researching big data, the creative economy, and user-generated vlogs, it has been an exciting journey since I completed my MA in Communication Studies at Laurier in 2010. I am currently a PhD candidate at the University of Toronto in the Faculty of Information, and, as my Twitter bio states, "I teach, learn, research, and live digital culture." During my MA, I had my first teaching experience as a teaching assistant; I have since taught more than 1,100 students as a course instructor. As an MA student, I created my first academic poster; I have now presented at dozens of academic and industry conferences, and I serve as a Conference Chair of the International Conference on Social Media & Society. In my MA thesis, I tackled my first large research project; today, I work as the Project Manager for a Canada Research Chair at Ryerson University's Social Media Lab. As an emerging scholar in my field, I am proud to say that Laurier's MA program in Communication Studies was part of my journey.
Laura McDonald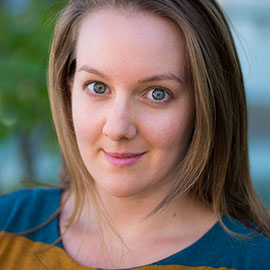 I graduated from the MA program in Communication Studies in 2009, after writing a critical analysis of contemporary musical theatre and its place in popular culture for my Major Research Paper, which subsequently shaped my own approach to producing theatre. Through my experience in the program — as a student and a teaching assistant — I substantially developed my critical thinking, project management, research, writing, and editing skills, all of which I've applied as a magazine editor, and now as Community Relations Coordinator for the Faculty Association at the University of Waterloo. I value the interdisciplinary nature of Communication Studies, and the foundation it provided for my career as well as other areas of my life. An intersectional, holistic approach is essential not only in the environmental sphere, but also for understanding and tackling many of the problems that we're facing as a society today.
Michael Sammut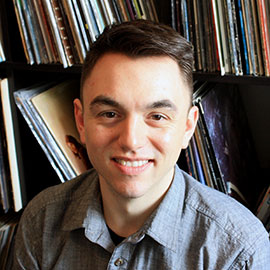 I completed my MA in Communication Studies in 2013. The interdisciplinary subject matter paired with the program's structure allowed me to tailor my studies to support my personal and career interests. My Major Research Paper explored the YouTube battle rap scene, focusing on the complex position of battle rap as a subcultural movement that strengthens certain social norms. Throughout my studies at Laurier, my advisor and peers consistently challenged me to produce the best work possible. I now work at The Feldman Agency in Vancouver, where I'm part of a team that books concerts for some of the world's biggest musical acts. My MA equipped me with critical thinking and project management skills, along with in-depth knowledge of my field. These factors directly contributed to helping me land a job in the exact industry I hoped to work in.
Francesca Saraco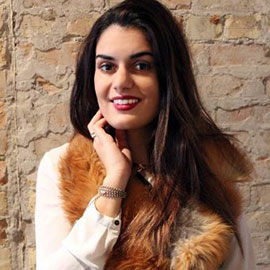 I graduated from the MA program in Communication Studies in 2014. During my time at Laurier, I worked as a teaching assistant for Media History and a research assistant on a SSHRC-funded study alongside my supervisor. My Major Research Paper focused on some of the ways freelancers and other independent workers are attempting to mitigate precarity. I presented my research at European Group for Organizational Studies conferences in Rotterdam and Montreal, as well as the Canadian Industrial Relations conference in Toronto. I currently work as a Social and Digital Strategist for GREY Canada — an advertising agency in downtown Toronto. I credit my professional success to the interdisciplinary curriculum of the MA program, its research and professional opportunities, acclaimed faculty, and the challenging yet supportive environment that Laurier offers.
Meagan Suckling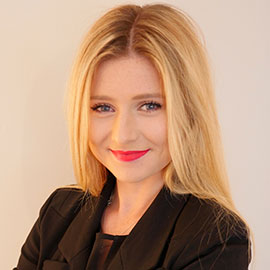 I hold an Honours BA (2012) and an MA in Communications Studies (2013) from Wilfrid Laurier University. My education and extracurricular activities made me a standout candidate when seeking employment and allowed me to secure a job prior to graduation. I currently work at the Canadian Cancer Society as the National Social Media Specialist, where I'm providing strategic vision to lead Canada's largest national cancer charity to new heights in the digital space. I credit the MA program in Communication Studies with helping me to develop the strong critical thinking and project management skills that have been key to my success early in my career.
Joseph F. Turcotte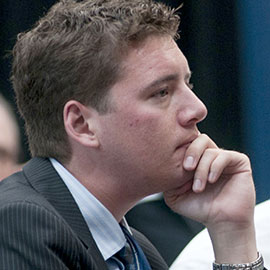 I can easily say that Laurier's MA program in Communication Studies has helped me get to where I am today. I was part of the program's inaugural class and graduated in 2008 after completing a Major Research Paper, titled Apple's iPod: The Postmodern Cultural Artefact. Through the program I developed friendships and collegial relationships with faculty and classmates, which helped me connect with my current PhD supervisor. The program also helped me to refine my research, analytical, and communications skills. Being in the Waterloo Region allowed me to access an array of exciting opportunities. At the Centre for International Governance Innovation (CIGI) I had the pleasure of working with eminent scholars and public policy practitioners who have become valuable mentors. I also had the opportunity to organize and participate in CIGI events with former Primer Ministers, Cabinet Ministers, diplomats, and civil society representatives. I am currently pursuing my PhD at York University in the Communication and Culture Program and remain thankful for all of the opportunities and experiences that my time at Laurier provided.
Bibiana A. Valencia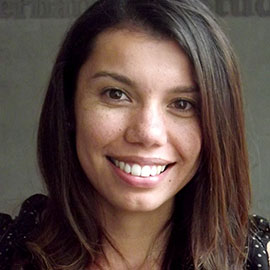 I completed my MA in Communication Studies in 2008. My Major Research Paper focused on the analysis of images and their power to construct and commoditize a culture. Given the interdisciplinary nature of this MA program, I was able to explore a number of career paths upon graduation. Currently, I work at Western University as an International Learning Coordinator where I oversee various international programs at the undergraduate level and promote the university at different outreach events around the world. This position has also provided me with the opportunity to work with the Department of Foreign Affairs, Trade and Development to promote Canada as a top destination for higher education. Completing my MA in Communication Studies was truly a key step in enhancing my intercultural communication skills and gaining the theoretical foundation I needed to be successful in the exciting field of international education.
Ingrid Yu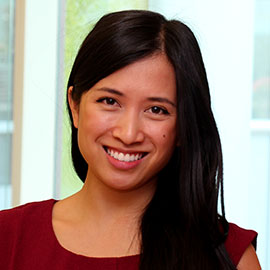 I currently work for The Princess Margaret Cancer Foundation, the fundraising arm of one of the top five cancer research centres in the world. My role involves writing corporate communication materials, performing media relations, and managing marketing campaigns. In the MA program in Communication Studies at Laurier, I developed my interest in health communications by examining the branding campaign of the product vitaminwater. My Major Research Paper addressed how vitaminwater's visual and textual strategies may propagate the health-conscious consumer. Thanks to the support and encouragement of the faculty, I presented my research at two national conferences before defending my Major Research Paper in 2012. Through my experiences at Laurier, I have paid thoughtful attention to how messages are communicated while also creating a valuable and transferable skill set. The training I received at Laurier provided me with the critical thinking skills necessary to rise beyond my expected professional duties and to secure a strategic role in my organization's communications planning.