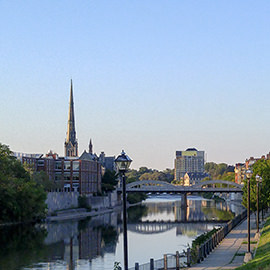 POSTPONED: CUSP Community Presentations and Awards Ceremony
We are pleased to invite the Cambridge City Council to attend the final community presentations of the Capstone Urban Sustainability Project (CUSP) for 2019-2020. CUSP is a fourth-year course offered by Laurier's Department of Geography and Environmental Studies in partnership with the City of Cambridge.  
This year's project focuses on a best practices review of sign-bylaws in other Ontario municipalities with recommendations for the different areas within the city of Cambridge. The students spotlight Preston Towne Centre, Hespeler Village, Galt City Centre, Hespeler Road Corridor, Blair Village, and the Main and Dundas Node.  
The six student consulting teams will present their findings and recommendations on:
Date:
 Wednesday, March 25, 2020
Time:
 12pm – 1:45pm
Location:
 Main Floor City Hall, 50 Dickson Street, Cambridge Ontario.
We hope you will join us for these presentations, let us know if you want to ride with us on the bus.
POSTPONED: We will also have the professional adjudication on April 1, 2020, with an awards ceremony and lunch to follow (1:00 pm) in the Map Library (Arts 2e5). Please RSVP to Susan Lankowski for the lunch by March 15.
Thank you,
Laine Young
Instructor (Capstone Urban Sustainability Project- CUSP)
Wilfrid Laurier University
layoung@wlu.ca