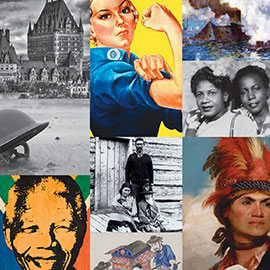 High school students visit Laurier's History department
The History department is very pleased to host groups of local high school students who visit the campus with their teachers for lectures and other activities.
In December 2015 several teachers and a group of about 75 students from the "Choose to Lead" program at Bluevale C.I. in Waterloo came for lunch at the Laurier Centre for Military Strategic and Disarmament Studies, a campus tour, and short lectures by History faculty Alicia McKenzie, Susan Neylan, and Mark Humphries, on key examples of leadership in history.
In March of 2016 two teachers at Southwood S.S. in Cambridge, including one of our own alumnae, Jessica Cornel, brought a class of about 40 Grade 12 History students to campus. After a welcome message from our undergraduate advisor, Jeff Grischow, who also provided an overview of Laurier's History and Ancient Studies programs, they viewed a screening of 12 Years a Slave (2013) and then heard a lecture presented by Associate Professor Dana Weiner on the history of slavery in the American colonies and the U.S.
Over the years we have also had smaller groups of students, such as the History club from a local high school with their faculty advisor, come on campus to sit in on an actual course lecture, meet some of our students, and get a private tour of the campus, including lunch in the cafeteria.
If you are currently a high school history teacher and would like to arrange for a class or club visit, please contact Grischow at jgrischow@wlu.ca until June 30, 2017 or his successor, Associate Professor Amy Milne-Smith, at amilnesmith@wlu.ca after July 1.