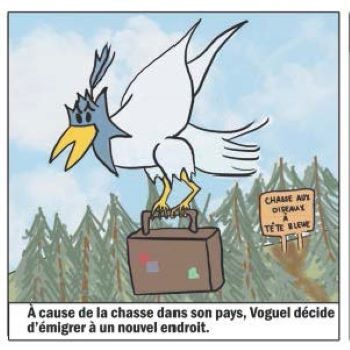 Comic Strips and Community Service Learning
Great learning despite pandemic restrictions! We are proud to showcase work from Dr. Simona Pruteanu's FR370: Graphic Novels and Animation.
In this course, students worked collaboratively to create strips in conjunction with local partner institutions, including Laurier for Literacy (LSFL), Kitchener-Waterloo Collegiate and Vocational Institute (KCI), Sit John A. Macdonald Public School, MacGregor Senior Public School and Eppele=Moi Canada.
Some bandes dessinées were creted for young immigrant children, with limited knowledge of French, such as Vogue's journey of integration, pictured above. Others tackeled issues such as identity and racial discrimination. In addition to concept and graphic design, studentd also put together a pedagogical guide for their intended audiences.
Enjoy reading some student reactions to this innovative course:
"Our group had the pleasure of working with Mme. Hines from Sir John A. MacDonald Public School. We were tasked to create a bande dessinée for her grade 7 and 8 French Immersion classes focusing LGBTQIA+ issues and identity. Most of us grew up reading bandes dessinées or graphic novels in elementary school, so it was truly a full-circle moment being able to create one ourselves for the next generation of students. We drew a lot of inspiration from our own childhood memories and FR370 classroom discussions. One of the biggest challenges we faced was deciding how best to use visual information to make an impactful story in an unfamiliar format. Our priority in creating this story was to portray an honest, yet optimistic, narrative of marginalized identity. In doing so, we hoped to provide an accessible way for students to gain a better understanding of gender identity." Elaine C., Sabrina F., Nic P. and Alleah E.
"For our project, we had the opportunity to work with Laurier Students For Literacy and to design an educational bande dessinée for young students learning French as a second language. It was exciting to present important topics such as immigration and integration in a fun and artistic way. It gave us the opportunity to explore a new medium, through materials which we do not regularly use in other courses. This course taught us that comics are not only to make children laugh, but they can also be educational and informative!" Angélique G., Maxime B. and Ko Eun U.