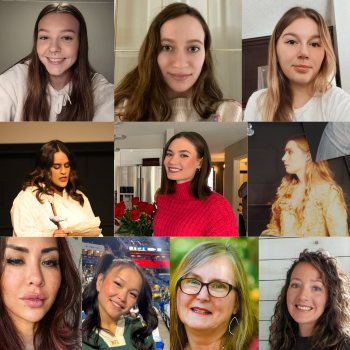 Congratulations to our 2023 Award winners
Amberish K. received the Concordia Scholarship in German. We were very grateful to the Concordia Club in Kitchener, who since 1996, has supported this scholarship to recognize students studying German at Wilfrid Laurier University. Amanda R. and Brittany W-S. both received the Hertha Brichta Memorial Award for German. Eleanora B. received the Joseph Dumaradzky Memorial Bursary also for German. Beth M. received the Heidt Scholarship in German. The Heidt family and Heidt Metal Products generously support this scholarship, which aims to foster and develop participation in the study of German language & literature.
Lupita De La M. received the Dr. Mercedes Rowinsky-Geurts Languages & Literatures Award. This award was created by numerous, generous donors in recognition of the retirement in July 2021 of Spanish professor Dr. Mercedes Rowinsky-Geurts.
The Keith and John Polfuss Boeckner Prize for Language Students was awarded to Elaine H. This prize goes to a BA in Languages student entering 3rd or 4th year with a minimum cummulative GPA of 8.0. The recipient also must demonstarte a commitment to learning languages through academic achievement and involvement in language-related extra-curricular activities.
Department of Languages and Literatures French Scholarship went to Rebecca P. this year. This is awarded to students in Year 2 or Year 3 of the HBA in French, who are active in student activities and show outstanding commitment to the study of French language and literature.
Ania F. received the W D Evans Award for students in the HBA in French. This scholarship is provided by the family and the Board of Governors in memory of Professor W.D. Evans.
Our Marjorie H. Brown Endowment Fund, granted an UG student who has completed their HBA in French, was awarded to Angélique G. Angélique had the highest cummulative GPA in all French courses of her cohort. Congratulations on this fabulous achievement!
Angélique tells us: "Since graduating from Laurier's French program, I began my Bachelor of Education with a focus on teaching FSL. I am currently in the middle of my first block placement with a French teacher, and I am absolutely loving it! The french program was a great pathway that I recommend to anyone pursuing education. I particularly loved all of the culture courses which gave me the chance to learn about Francophonie around the world. With this background, I can offer my students a richer French-learning experience through the music, history, georgraphy (and more!) that I learned throughout the program!"
Congratulations to you all and keep up the good work!
For more information about our Languages & Literatures Awards, check out our website here.
And don't forget to complete your General Student Profile during the summer. The general Student Profile typically opens in mid-August of each academic year. More information on the Student Profile can be found here.