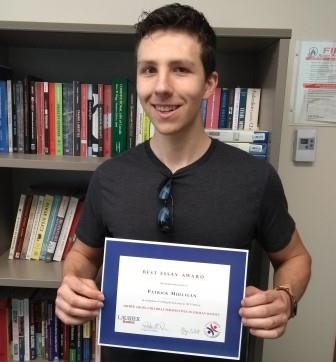 Best Essay in HR402 Award 2017-2018
The Human Rights and Human Diversity program is pleased to announce Patrick Mulligan as the 2017-2018 winner of the Best Essay Award in HR402 Cross-Cultural Perspectives on Human Rights.
Patrick received this award for his essay entitled, "The Sexism Innate in Poverty: Examining the Intensifying Effects of Austerity on Brazil's Macho Culture."
HR402 functions as the Human Rights & Human Diversity program's capstone course. This seminar course provides students an opportunity to apply the knowledge and skills they have developed in their many courses by focusing on a topic of interest to them.
Previous winners of the award are:
2016-2017 Rachel Pearsell
2015-2016 Shannen Maili-McAleer
2014-2015 Shannon Bahry
2013-2014 Kelly Pflug-Back
2012-2013 Jeanette Pickett-Pierce
2011-2012 Brennan Fox
2010-2011 Elizabeth Baisley