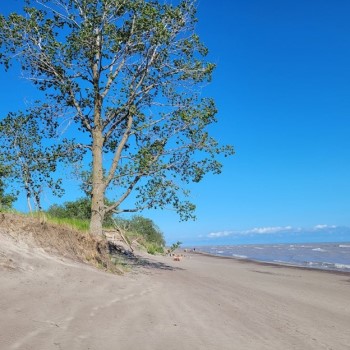 Great Lakes' fragile dunes
Footprints in the sand: what you don't know can really hurt the Great Lakes' fragile dunes
Reproduced with permission from The Narwhal
From accelerating erosion to introducing invasive species, there are a whole lot of reasons for beachgoers to stay off Great Lakes sand dunes. But how are they supposed to know?
Waves, sky and endless sand: Long Point Provincial Park on Lake Erie is as tropical as an Ontario beach gets, which is why I've camped there every summer but one (2020, ugh) for a decade. It's an idyllic spot, if you have a sun umbrella. Without one the heat can become overwhelming, which is why some people climb the hilly sand dunes between the beach and campground to find shade under scattered trees. It's an understandable act, but one that wreaks havoc on a sensitive ecosystem, not to mention my ability to relax, as I battle the urge to go over and freak out at them, in my bathing suit. 

I try to remember beachgoers might stay off the dunes if they knew how fragile they are — every footstep could introduce invasive species, contribute to erosion or damage the homes of endangered critters — but most probably don't. Signs along the beach and in the campground are sparse and don't go into much detail. Without guidance, many people in Canada don't understand how to act outside, as seen by the rise in outdoor recreation during pandemic lockdowns that brought a surge in garbage, dangerous behaviour around wildlife and calls for backcountry rescues. 

But while Ontario has protected almost 80 per cent of its sand dunes, explaining park etiquette to visitors doesn't seem like a priority. The provincial Ministry of Conservation, Environment and Parks did not respond to The Narwhal's questions about its public education policies, including how it decided where to put the few signs about dune health that do exist at Long Point.

Apparently, the job of bursting the pop culture beach bubble has been left to environmental organizations, with earnest researchers facing off against luxe Hollywood images of sand as groomed and depilated as Ryan Gosling's Ken, as ornamental as his useless surfboard.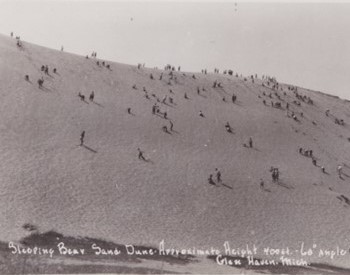 Lake Erie sand dunes were destroyed by colonialism. Now, recreation threatens their restoration
The Great Lakes dunes are the largest freshwater sand dunes on the planet. They comprise just 1.5 per cent of the shorelines of all five of the lakes, including the 150-metre-high Sleeping Bear dunes on Lake Michigan, the wildly popular Sandbanks beach on Lake Ontario and the dunes separating Lake Superior from the boreal forest at Neys Provincial Park. Sand stretches far beyond the shorelines: the rolling sand plains of Long Point, for example, lie under a 26,250-hectare biosphere region in southwest Ontario's Norfolk County. 

Endangered species like the prickly pear cactus and the eastern hognose snake live in the Great Lakes dunes, which also help protect shoreline communities from floods and other effects of storms. But they face a host of stressors that can be made worse by people walking the dunes. Invasive species, which might be on your shoes right now, can spread with every step in the sand. Feet can also kill native plants whose roots help hold the hills together. Decades of tourism-centred development has destroyed some dunes and shrunk most others, with roads, boardwalks and parking lots preventing the sand from shifting and moving as it should. 

This is the kind of information Cynthia Brink shares in the outdoor education programs she runs in the Long Point biosphere, outside of the provincial park. "There's a huge separation that's been created between mankind and nature," Brink told me. "This idea that you have to go to nature when nature is all around us, it's under our nose if we pay attention. We're part of it and if we're part of it, we should very well take care of it." 

Brink does a wide range of work in the biosphere region, including as project manager for the Long Point Walsingham Forest site of Environment Canada's "priority places" program, a restoration initiative for 11 sites across Canada that are habitat for species at risk. About 1,000 students participate in programs run by her organization every year. She took me on a walk through part of the St. Williams Conservation Reserve, a 1,035-hectare chunk of the biosphere that is an example of both success and ongoing frustrations in restoring and protecting the Carolinian landscape. 

On the plus side is the ample vegetation now populating the site, a reversal of the devastation caused by colonization. When the government first gave European settlers land here, the deal was they had to rip out the forest in order to farm, a genius plan that caused all of the topsoil to blow away. Within decades, the area was an unnatural desert. Along with their food sources and hiding spots, animals like the fisher and the raven disappeared. 

By the early 1900s, attempts at farming had stalled, and St. Williams became the site of Canada's first reforestation project. The good news is trees and bushes are now abundant. The tricky part is they're the wrong kind of greenery. Early conservationists wanted fast-growing trees, both for roots to hold soil together and to kickstart a logging industry, and so chose largely European species they were most familiar with.

But Brinks said native plants do a better job of holding soil together as well as housing and feeding animals. Shade under native forest, she said, is on average 2 C cooler than under foreign leaves, an important number in line with the planet's climate mitigation needs.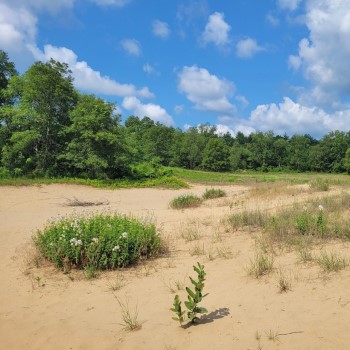 Now the goal is to, slowly, pull up foreign species in St. Williams so sunshine can hit the forest floor, allowing native plants to sprout up from dormant seeds. That project is painstaking, but also doable and rewarding: the fisher is back, as are plenty of snakes. What's been difficult is getting everyone to understand nature isn't a playground. Brink pointed out dirt bike tracks ripping through delicate vegetation, as the hidden, sandy reserve is a popular spot for local racers. Even though thousands of dollars in fines have been handed out, ongoing joyrides threaten decades of restoration work.

"It's really tough because people have just been taught that beaches are for fun, they haven't been shown the consequences of their actions," Brink said. Her hope is that the work she does with "bright-eyed and bushy tailed" kids trickles up to their parents, increasing everyone's drive to keep the land healthy. 
Public education makes a difference. It also requires patience and funding
"I think the message gets out to those who want to hear, rather than those who are just out for recreation," Mary-Louise Byrne, chair of the department of geography and environmental studies at Wilfrid Laurier University, said to me about dune health. Byrne studies sediment in beach systems: how sand absorbs waves and moves with water, and how it helps with everything from flood prevention to transporting plants between sections of a waterway. 

While Lake Erie's dunes are definitely threatened, Byrne said, they're not the most fragile, in part because the soil still produces new sand. In the lakes to the north, that's not true — partway through Lake Huron the sand becomes finite and "the dunes that are there are the dunes that are there." If sand is cleared away, those dunes are gone forever. 

It's a live worry: dune preservation has been a point of contention in places like Lake Huron's Sauble Beach, where the tourism economy has often led the local government to favour pretty beaches over natural ones. In 2020, Byrne collaborated on a report about a dreadful proposal to excavate a full quarter of Sauble Beach's dunes in favour of a retaining wall, all in the name of keeping sand off a parking lot.

Saugeen Ojibway Nation and local lovers of the endangered piping plover loudly opposed the plan, which Byrne's report cautioned would worsen flooding, diminish already scarce plover habitat and likely be irreversible. A new municipal council elected last fall seems to have put the idea on ice, though the threat isn't completely gone.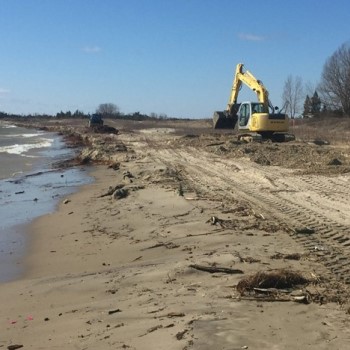 Byrne also researches the role of community groups in restoration and preservation, especially important since the dunes most difficult to protect are big ones near where humans like to hang out. In other Lake Huron communities, public education has made a difference, said Byrne, who is an advisor to the Lake Huron Coastal Centre, a charity that operates in the communities of Saugeen Shores, Kincardine and Huron-Kinloss. 

Its popular programming includes beginner sessions on sand dune systems, as well as youth and citizen science programs that draw volunteers from well beyond the year-round local community. The centre also guides shoreline landowners in keeping their personal stretches of dune healthy — and beautiful, too, if in a wilder way than they're used to. But ongoing programs are often harder to get funding for than shiny new initiatives, the centre's coastal restoration technician, Holly Westbrook, said.

"Getting people to think about sand dunes as part of a system rather than just as a pile of sand with some weeds is probably the most important thing," Byrne said. Sometimes, practical messaging is most effective: one park she worked with in Prince Edward Island found that warning signs about poison ivy kept people out of places they shouldn't go. I asked Ontario's Parks ministry why there aren't signs about the abundant poison ivy and ticks at the Long Point campground and didn't get an answer. Rather than fuming about dune climbers, maybe I should make my own. 

It's a delicate balance, allowing humans to enjoy the Great Lakes without letting them taking over — especially since exposure to natural spaces often convinces us to protect them. Byrne spent her childhood summers at Lake Erie's Point Pelee National Park, where mid-20th century construction of boardwalks, parking lots and bathrooms destroyed many dunes entirely. Then, in 2007, the designation of a Canadian lizard, the five-lined skink, as endangered gave the federal government cause to try and recalibrate that balance in order to restore its habitat. 

Roads were realigned, while bathrooms and picnic shelters were removed, then rebuilt in one concentrated area to allow others to renaturalize. Though it's been less than a decade since this work started in earnest, Byrne said, it does look like it's working. "It's a small project, but it's an important one, because it gives us some idea of how we can proceed," she said. 

What the team had to accept, she said, was the need for a "sacrifice area" for a playground, picnic shelter and bathrooms, "the infrastructure people want to have when they go to the beach." These were placed in "less vulnerable areas of the dunes … that were lower in elevation, weren't receiving sand, didn't have a lot of endangered species present. And so they sacrificed that area." 

It's a brutal way to put it — and got me thinking about Long Point Provincial Park. Maybe there's no way to fully protect an area while also allowing thousands of people to camp on it every summer. But if the campground is a sacrificial space, it should be honoured, used as best as possible to explain how to protect Lake Erie sand dunes in the places that are literally off the beaten path. 

In which case, the signs need much, much more detail. And if the park won't do it, I guess it is up to me. The first thing I need is a bathing suit that makes me look like a giant tick, covered in poison ivy. 
The Author: Denise Balkissoon
Ontario Bureau Chief
@balkissoon

Denise Balkissoon is based in her hometown of Toronto. She has been executive editor at Chatelaine, where she edited a National Magazine Award-winning feature about long-term care (and perfected her well-honed ability to put the fun in feminism). She has also been a columnist, reporter and editor at the Globe and Mail, where she co-hosted and co-produced the podcast Colour Code about race in Canada, which won a Digital Publishing Award. From 2011 to 2018, she was a founding member of the Ethnic Aisle, a groundbreaking digital magazine about ethnicity and racism in the Greater Toronto Area. She has been recognized by the Urban Alliance on Race Relations for her longstanding commitment to integrating racial justice into Canadian journlism.