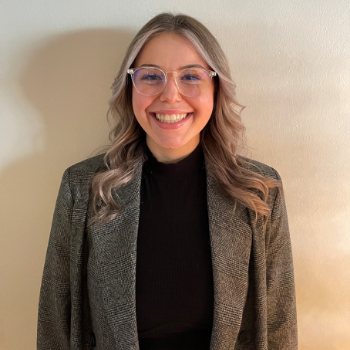 Master of Kinesiology student examines children with developmental disabilities and participation in dance
We asked our current Graduate students to tell us a bit about themselves and what kind of things they are researching. Below is an overview of Isabella Seguin's research. 
Meet Isabella
Name: Isabella Seguin
Program: Master of Kinesiology
Educational Background: Honours Bachelor of Kinesiology, Wilfrid Laurier University
Current Field of Study: Examining the lived experiences of families with children with developmental disabilities, and their children's participation in recreational dance programs
Tell me about yourself and how you became engaged in your field of study?
Since I was a child I participated in all things sports. From dance to soccer, I enjoyed moving my body and staying active. Kinesiology was an easy choice as I applied to university, and I was lucky to have been a part of such a great undergraduate program at Laurier. Throughout my undergraduate degree, I began to gear my studies toward health promotion and physical activity for children, as these areas were where my interests began to flourish. I had the wonderful oppounity to complete an undergraduate thesis, examining the lived experiences of a child with autism spectrum disorder and her participation in a recreational dance program. Through this process, I found a passion in qualitative research, and decided I would complete a Masters in Kinesiology to further pursue my research interests in this area.
Provide a brief overview about your research.
Many children with developmental disabilities (DD) display patterns of restrictive, repetitive behaviour, along with impairments in social communication (American Psychiatric Association, 2013). It is important to note these conditions are lifelong, not only affecting the children, but their family as well. Caring for children with a developmental disability can have physical, social, emotional, and financial effects on the family as a whole. To mitigate signs and symtoms, exercise interventions have been explored, and shown improvments in several behavioural outcomes such as stereoptypical behaviour, social-emotional functioning, and cognition (Bremer et al., 2016; Hildebrandt et al., 2016; Koehne et al., 2016).
Traditional exercise interventions (e.g., playing sports) may not be appropriate for children with DDs, warranting the need for alternate forms of physical activity such as recreational dance. Dance allows expression through movement, and has shown various benefits in the literature such as emotional and social expression, increased spatial awareness, self confidence, and self-esteem (Alpert, 2010; Lobo & Winsler, 2006). Findings suggest more research needs to be completed regarding children with developmental disabilities and recreational dance. Through the use of qualitative methods, I will be able to share the experiences of my participants, allowing their voices to be heard.
How do you stay passionate as a graduate student? 
Being able to conduct research about a topic I am truly passionate about is what keeps me going. When I began conducting research, I knew I wanted to ensure the work I was doing was both of interest to myself, and the greater community. I truly hope to translate my findings to the community, sharing what I have found and aiding in the development of more feasible and accessible dance programming for children with DDs.
What one piece of advice would you give to other students interested in pursuing graduate studies? 
My first piece of advice would be to ensure you are researching a topic in which you are interested. Graduate school is hard work, but having a purpose because you are truly interested makes it that much better.
My next piece of advice would be to find a supervisor you connect with on all levels – both academically and personally. You want to ensure you have similar goals in terms of their expectations and your own.
Finally, make use of your support system. Surrounding yourself with supportive people can make a world of difference.
Where can someone learn more information about your program or research?