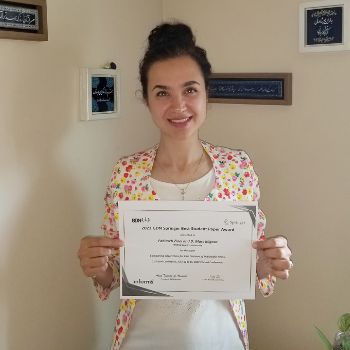 Laurier PhD student Fahimeh Ziaei honoured for paper at 22nd International Conference on Group Decision and Negotiation
Fahimeh Ziaei, second-year PhD student in Laurier's Mathematics program, was recently awarded the Springer Best Student Paper Award at  the 22nd International Conference on Group Decision and Negotiation (GDN 2022). The GDN conference is held annually to provide an opportunity for participants to share knowledge and perspectives about the interdisciplinary field of group decision and negotiation.
In Ziaei's paper, which was written in partnership with Laurier Mathematics Professor Marc Kilgour, she compares algorithms for the fair distribution of indivisible items based on feasibility, fairness, equity and transparency. Because indivisible items cannot be divided, a fair way to allocate these items is required.
"We want to address as many real-world applications as we can," says Ziaei. "Like the allocation of portfolios of assets, the drafting of players to sports teams, or the division of assets in a divorce. But we need to allocate the indivisible items as fairly and efficiently as possible."
GDN conferences attract academics from a range of disciplines, including mathematics, business, computer science and economics, with a common interest in group decision and negotiation. The events are organized by the Group Decision and Negotiation section of the Institute for Operations Research and the Management Sciences (INFORMS). Kilgour has participated in all 22 GDN conferences to date.
"I am so happy about this special honour, it means our hard work is paying off," says Ziaei. "This conference brought me the amazing opportunity to network with other professionals in my field. These people have motivated me to broaden my horizon, to write and publish more papers."