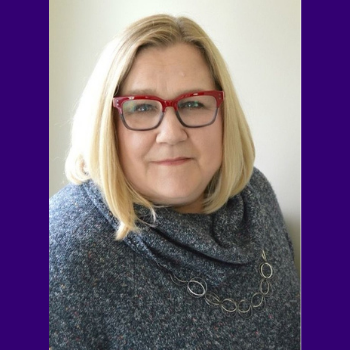 Laurier PhD student studies the intersection of intellectual disability and grief
We asked our current Graduate students to tell us a bit about themselves and what kind of things they are researching.  Below is an overview of Cara Grosset research.
INTRODUCTION
Name: Cara Grosset
Program: PhD Social Work
Educational Background: BSW (1991, Ryerson University), B.Ed. (Adult Ed.) (2012, Brock University), MSW (1993, University of Toronto), PhD Candidate, Laurier Faculty of Social Work
Current Project/Thesis/Field of Study: Grief related to death and people labelled with intellectual disabilities
TELL ME ABOUT YOURSELF AND HOW YOU BECAME ENGAGED IN YOUR FIELD OF STUDY?
In the 2nd year of my BSW two things happened: I had a field placement at an institution for people with intellectual disabilities. One day, a worker I had observed facilitating crafts groups with residents was killed on her way to work. No one told any of the group members about her death, no one sat down and talked to them, or facilitated their possible grief reactions in any way. She was just gone – and replaced by someone else.
While still engaged in this field placement, the second event occurred, one so personal and traumatic that it changed my life forever. My father died suddenly. This traumatic experience eventually led me to develop and facilitate childrens, teen, and young adult bereavement support groups. I noticed over many years that there were no people attending groups who weren't "neuro-typical". This realization spurred my interest to research the intersection of grief and intellectual disability.
PROVIDE A BRIEF OVERVIEW ABOUT YOUR RESEARCH
My dissertation is titled, Deep in the Shadows of Loss: An Exploration of Grief, Mourning, and Intellectual Disability.
It is a qualitative exploration, using an interpretive description approach, of grief experiences (due to a death) for people labelled with intellectual disabilities. People with intellectual disabilities are a significant population of people virtually overlooked in the literature in both thanatology (death and dying) and disability studies. Different factors pointed to the need for this research. For instance, people with intellectual disabilities are living in the community at higher numbers, and, as with the rest of the population, life expectancy is also longer, so the likelihood of experiencing the death of a family member, support person, or friend has increased. Bereavement support services are already limited for the general population, but are almost non-existent for people with intellectual disabilities.
The hope is that my research will lead to ways to understand the varying experiences of these grievers, contribute ideas for bereavement support practices, and provide suggestions for grief education for social workers and other helping professionals. I have completed 24 interviews for my dissertation research – 14 bereaved individuals, 4 support people, and 5 key informants. I am currently reviewing my data using thematic analysis as I develop my findings.
HOW DO YOU STAY PASSIONATE AS A GRADUATE STUDENT? 
This can be a challenge as you go through course work, writing your comprehensive examination, and engaging in your research while also attending to the demands of your life outside of school. I have found that developing relationships with people in academia and in the field who share my interests is essential. I also nurture relationships with peers in my PhD program as we encourage one another, bounce ideas off one another, and read and edit each other's writing. Additionally, having a good working relationship with your advisor is very important, as are deadlines for completing each part of your work.
WHAT COMES NEXT FOR YOU AFTER YOU HAVE COMPLETED YOUR STUDIES/PROGRAM? 
I hope to continue to work in academia as a teaching faculty member while continuing to expand in my area of research. I would like to further develop my involvement with community-based organizations working alongside folks with intellectual disabilities expanding grief education opportunities, grief support practices, and including folks with disabilities in creating research projects. Maintaining my private practice as a therapist in some manner is also important to me, as is my community volunteer work.
WHAT IS ONE PIECE OF ADVICE WOULD YOU GIVE TO OTHER STUDENTS INTERESTED IN PURSUING GRADUATE STUDIES?
I'll start with the worst piece of advice I heard going into my studies, which was to "say goodbye" to my family and friends for the next 4-6 years. I knew going into my PhD program that my family and friends were going to be my best source of support and encouragement. My advice: don't lose sight of your life outside of your studies and research – the people and activities you want in your life when you're done need to be maintained throughout because they are pivotal to your success and wellbeing. Of course, I recommend nurturing relationships with some of your program colleagues; the shared experience and support can help you through those days when the work seems endless.
Are you teaching as part of your program? If so, what is the best piece of advice you have for graduate students?
TAships have provided me with opportunities to develop collegial relationships with faculty and to interact with many students. I have also had research assistant opportunities which enhanced my research skills and resulted in two publications. Since beginning the program I have also taught as Contract Teaching Faculty (CTF) in the BSW and MSW programs. In 2021, I was a recipient of the prestigious Laurier Student Teaching Award of Excellence, Doctoral Category. The best piece of advice I have is to be open to any opportunities that enhance your learning (e.g., workshops and certificates available through Teaching & Learning) and provide you with teaching experiences – but don't take your eye off the important milestones of your studies and research!
WHERE CAN SOMEONE LEARN MORE INFORMATION ABOUT YOUR PROGRAM OR RESEARCH? 
I don't yet have any publications related to my dissertation research, but I have the following publications I have worked on during my PhD program:
Mfoafo M'Carthy, M., Grosset, C., Stalker, C., Dullart, I., & McColl, L.  (2018). An Exploratory Study of the Use of Community Treatment Orders with Clients of the Guelph ACT Team. Social Work in Mental Health, 16(6), 644-661.
Grosset, C., Frensch, K., Cameron, G., & Preyde, M. (2018). Perceptions of Long-Term Community Adaptation of Delinquent Young Adults Who Graduated from Children's Residential Mental Health Treatment. Child & Adolescent Social Work Journal, 35 (3), 231-241.
Karki, K., Chi, M., Gokani, R., Grosset, C., Vasik, J., & Kumsa, M.K. (2018). Entering Precarious Job Markets in the Era of Austerity Measures: The Perceptions of Graduating MSW Students. Critical and Radical Social Work Journal, 6(3), 291-310.