MyLearningSpace Homepage
The MyLearningSpace home page is the first page you will see after you log in. Learn more about the components of the page.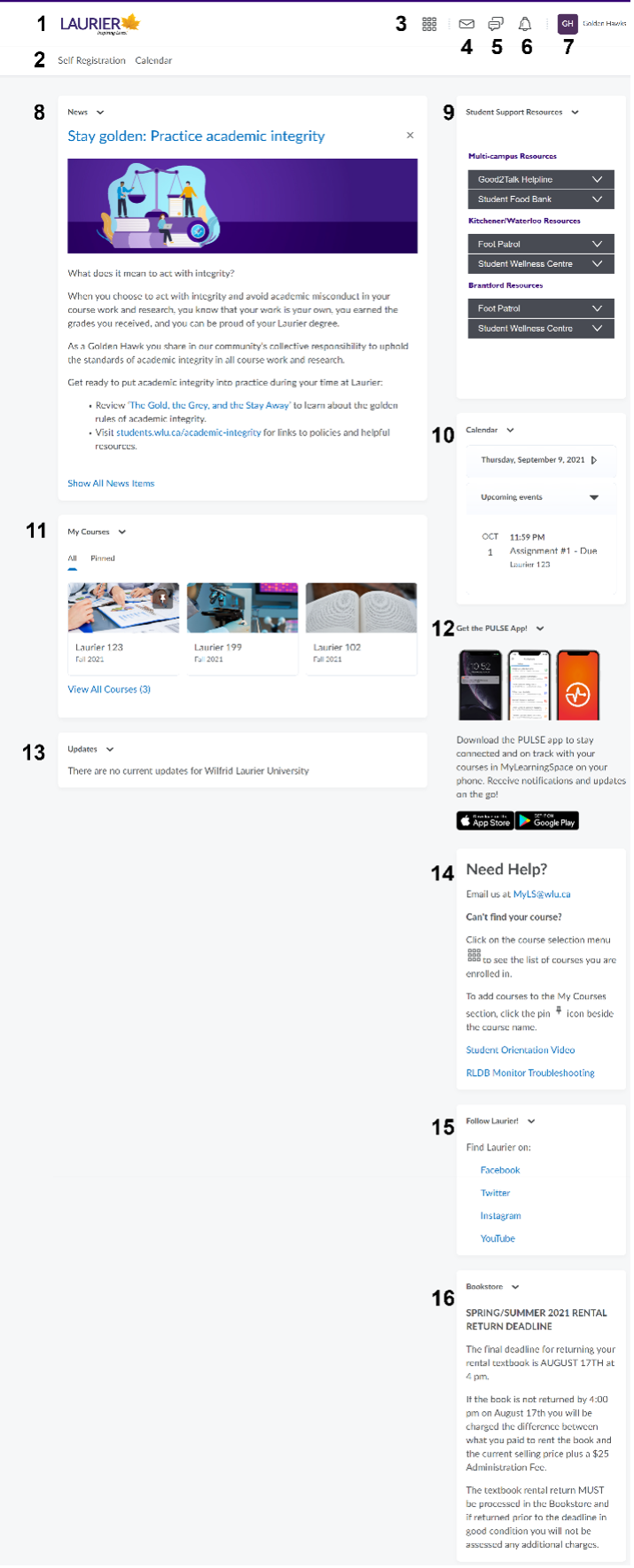 1. Laurier logo: Click the logo to return to the MyLearningSpace homepage.
2. Navigation bar: Includes links to Self Registration and the system Calendar.
3. Course selection menu: Lists all courses you are enrolled in. Includes the option to pin courses to the My Courses widget on the homepage.
4. Message alerts: The email tool allows you to send email from within MyLearningSpace. You can also organize received mail using folders and store email addresses using the Address Book.
5. Subscription alerts: Receive notifications once subscribed to a Discussion a Forum, Topic, or Thread.
6. Update alerts: Receive notifications when new news, grades, feedback, due dates, quiz dates, etc. are released.
7. Profile, Notifications, Account Settings, Log Out: Update your profile, change your notification and account settings, and log out of MyLearningSpace.
8. News: System and university wide updates are posted in this component.
9. Student Support Resources: Support resources for students.
10. Calendar: Lists important dates. 
11. My Courses: Includes a list of all courses you are enrolled in. When you pin your course, it will appear in this component.
12. Pulse App: Link to download the D2L Pulse app.
13. Updates: Displays the number of new items like discussion posts, available quizzes and email from all courses.
14. Help: Links and documents to help you with the tool.
15. Social Media: Links to Laurier's social media accounts.
16. Bookstore: Important dates from the Bookstore.
Self-Registration
The self-registration tool allows you to enrol in courses offered by various groups at Laurier.
Courses for students include:
WHIMIS Training
Laboratory Safety
Academic Integrity Certificate
Mathematics and Statistics Learning Support
Respondus Practice Quiz
Young Worker Health and Safety Orientation