 How to Add Your Pronouns to Microsoft Teams and Zoom
At Laurier, we value equity and diversity and are committed to providing inclusive, welcoming and affirming environments for all members of our community. To support this effort, we want to share information about how you can add your pronouns to Microsoft and Zoom.
While use of this feature is optional, sharing pronouns can help create a more inclusive environment by helping others address you the way you want to be addressed. It is important to note that some individuals may not be comfortable with sharing their pronouns or may prefer to be addressed solely by their name. For further information about gender inclusivity and creating more inclusive environments, explore our Gender Inclusivity Resources.  
Examples of Pronouns
he/him/his 
she/her(s) 
them/they/their(s) 
ze/hir(s) 
Teams
Open your profile card in Teams or Outlook on the web by selecting your profile picture in the upper-right corner.
Select "+ Pronouns" or the pronouns listed below your name.

Note: You may need to quit and reopen the Teams application in order to see the Pronouns feature.

To add or change your pronouns, select from the examples listed or enter your own.
Select "Save" and then "Got it." Changes are updated immediately.
For video and screenshot examples, please see Microsoft's guide on how to add pronouns to your profile.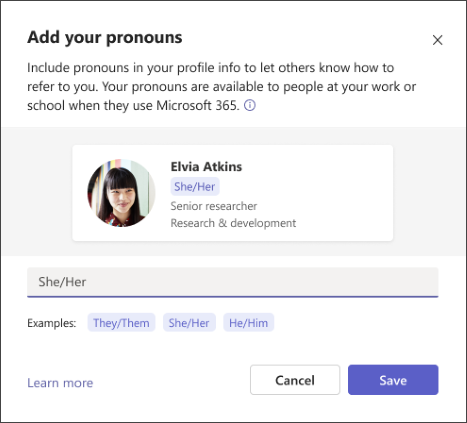 Zoom
Ensure Zoom is up to date to version 5.7.0 and sign in to the Zoom web portal.  
In the navigation panel, select Profile.
On the right side of your name, select "Edit."
In the "Pronouns" field, enter your pronouns.
In the "How would you like to share your pronouns?" drop-down field, select your preferred sharing option. 
Select "Save" and your changes will be updated.
You can also view instructions for adding pronouns on Zoom's website.