Wellness and Multi-Faith Support
Wellness Supports
The Student Wellness Centre is offering remote counseling. To book appointments, contact the Student Wellness Centre at 519.884.0710 x3146.
For additional support, learn more about workshops and groups being offered.
Meet Shevaungh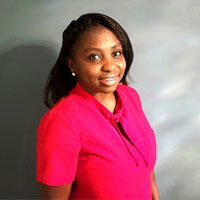 You are welcome to meet with Shevaungh Thomas, Laurier's counsellor/psychotherapist and registered social worker.
Shevaungh is a racialized counsellor/psychotherapist, and a registered social worker who works on the Brantford and Waterloo campuses. She works with students who identify as Black and people of colour.
Shevaungh works from an anti-opressive framwork and is passionate about equity and diversity issues. She believes in creating a therapeutic space where students feel a sense of belonging. Her training is in different modalities and her approach with students is integrative and collaborative. She incorporates culturally sensitive and evidence-based interventions.
Multi-Faith Supports
The Multi-Faith Resource Team, which includes the university chaplains, is available to assist students, staff and faculty in their efforts to research or discuss ethical and theological issues. As Laurier is a place where students can enhance their own religious knowledge and be challenged by unfamiliar faith stances, the Resource Team is available to support people from all religious traditions.
The Multi-Faith Resource Team office in Waterloo is located in room 2C10 in the Arts Building.
Multi-Faith Prayer/Quiet Space
Offering multi-faith hospitality for the religious and spiritual needs of the Laurier community, Laurier's multi-faith prayer spaces is a dedicated quiet space for prayer, meditation and community.
The space includes ablution/washing stations, prayer mats, chairs, meditation pillows, spiritual texts and other resources.
Prayer Space Locations
On the Waterloo campus, there are two prayer spaces: 
Room P101, Peters Building
Room BA103 in Bricker Academic (OneCard entry)
On the Brantford campus, the prayer space is located in the Carnegie Building (CB105 Access Code 1233).
At our Kitchener location, the prayer space is located in the Faculty of Social Work (FSW321), Spiritual Room.