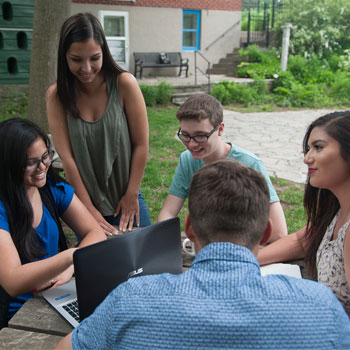 Career Resources
The Career Centre and the Indigenous Student Centre work closely together to provide specialized career services and career resources for Laurier's Indigenous students. For career tips and advice from Indigenous alumni, view a customized list of Career Profiles.
Career Consultant
Korrie Belanger has been with the career centre since 2015 and truly enjoys her daily interactions with students. She specializes in supporting students with Indigenous backgrounds for assistance with job search, resume preparation, interview practice, further education planning and general career advice. Come visit Korrie during her monthly drop-in hours at the Waterloo campus Indigenous student centre or use navigator to book an appointment with her.
Career Opportunities
Discover the endless career opportunities and online resources available to you. Identify and develop your knowledge and skills to be real-world ready and increase your success after graduation.
Campus Career Shadow Day
Campus Career Shadow Day is a unique opportunity for self-identified Indigenous students to engage in career exploration on campus. This opportunity will allow you to make a connection between classroom and career to better understand the knowledge, skills and requirements needed to pursue a fulfilling career at Laurier.
Participation in Campus Career Shadow Day includes pre-shadow and post-shadow meetings with representatives from the Office of Indigenous Initiatives, Career Development Centre and Human Resources. You will be paired with a Laurier staff or faculty member who aligns with your careers goals and will be able to provide insight into the field. You will shadow this member of the Laurier community on a day of their choosing between November and December.
Application Process
Complete the Campus Career Shadow Day Application Form before the application deadline. The application form will require you to attach a copy of your resumé and cover letter outlining your interests and goals. For the latest postings on Campus Career Shadow Day, refer to the Indigenous News page.