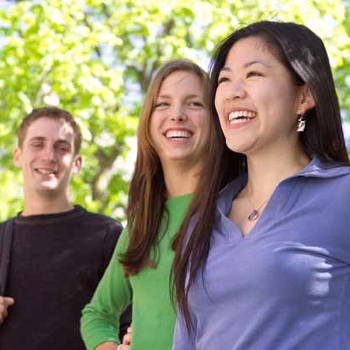 Destination Ontario Airport Welcome Program
Laurier is excited to be participating in the Destination Ontario Airport Welcome Program, a program designed to help give you the essential information you need to have an easy and efficient arrival in Canada.
The Airport Welcome Program
There are two components to the Airport Welcome Program: the iCent app, which you can download and use before arriving, and the in-person welcome booths set up at Toronto Pearson International Airport.
About the App
Through the iCent app you will be able to access information related to:
There is also chat function that allows you to connect with staff at the welcome booth if you have questions or are unsure about what to do. 
You also have the option of entering your flight arrival information. If you provide this information, it will help the welcome staff know when to expect you.
Please note: entering your flight arrival information in the app is only for the welcome staff to know when you are arriving. Entering your flight information does not register you for anything else.
You can download the iCent app through the App Store or Google Play. Access the information related to Laurier by selecting Wilfrid Laurier University Airport Welcome Program. 
About the Welcome Booths
There will be two welcome booths at Pearson Airport, located near Terminal 1 and Terminal 3, as well as a station near the transit hub on the first floor of the Terminal 1 building. The booths will have staff to welcome you from Monday, Dec. 23, 2019 to Sunday, Jan. 5, 2020 from 7 a.m. to 11 p.m. 
The staff at the welcome booths are there to help you with any questions you might have, including:
shuttle and transportation information from the airport
accommodations and hotels
airport Wi-Fi and refreshments
baggage claims, including any assistance needed
information about Laurier
The staff and the welcome booths are there for you to help make sure you have the information you need to get to Laurier, so be sure to talk with them if you have any questions.
We hope your travels to Canada and to Laurier go well and we look forward to welcoming you to campus!