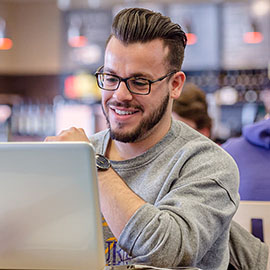 How to get involved in virtual experiential learning
The shift to a mostly virtual fall means that you'll get a chance to be involved with experiential learning at a distance!
When we say "experiential learning" at Laurier, we mean activities that are embedded into your degree – like co-op work terms, and community and workplace partnerships – as well as all of the other co-curricular activities – like clubs, campus employment, student leadership and academic workshops – which enrich your experience as a Golden Hawk.
You can't talk about experiential learning without mentioning the Laurier Experience Record (LER) and Navigator. The LER is a validated record of your experiential activities where you can identify the skills you've developed during your involvement and reflect on your growth. Navigator is where you go to browse all available opportunities, apply for positions and to access your LER.
So whether this is your first term of university, you're heading into your last year, or you're somewhere in between, we want you to make the most of all the experiential learning opportunities Laurier has to offer:
Get Involved Outside of Your Courses
Co-curricular Activities
There are literally hundreds of co-curricular experiences you can engage in, from student clubs and peer programs, to campus and community volunteer opportunities. Even over the summer, Golden Hawks involved in Laurier's 250+ student clubs and associations were busy making things happen. Attend "Campus Fest", the Student Unions' Virtual Club's Fair, during orientation week on Sept. 10 from 10 a.m. to 3 p.m. to find out what's out there.
The Laurier Experience Catalogue is another great resource for you.
Example experiences:
volunteer notetaking with Accessible Learning
student ambassador for Laurier International
Food Bank volunteer with the Students' Union
Employment Opportunities
Gain income and valuable workplace experience while directly benefitting the Laurier community: win-win! University departments and faculty members are posting full-time and part-time remote employment opportunities for students. These positions are posted in Navigator on an ongoing basis so check regularly and don't wait to apply!
Example experiences:
Certificates and Workshops
Develop your professional, personal and academic skills throughout your degree. Most of the in-person programs have moved online, giving you a variety of non-credit certificates and student workshop series to choose from. For example, first-year students can take advantage of the new Career Prep Program and graduate students can hone their teaching skills with online certificates and training modules. Full listings are available online.
Example experiences:
Engage with Course-Based Experiential Learning
In-course experiential opportunities could include field placements, lab experiences, creative performances, entrepreneurship projects and more. Course-based Community and Workplace Partnerships (CWP) include job shadows, case studies, placements and community engaged projects. You don't have to opt-in to these activities because they are built in to select courses across most Laurier programs.
While you might be wondering whether these experiences will translate to a virtual environment, we're excited to share that our network of new and existing community and workplace partners remains strong. CWP classes that might have included a field trip to a local township, or an applied research component, are being adapted to suit the remote learning experience. Employer projects and simulated workplace experiences at a distance will give you a chance to explore different career paths and build professional skills in the context of the remote work.
Classes with embedded experiential learning components are automatically entered into your LER after you successfully complete the course.
If you are interested in participating in a course with a community or workplace experience included, there are many available for you to explore on LORIS for winter 2021 registration.