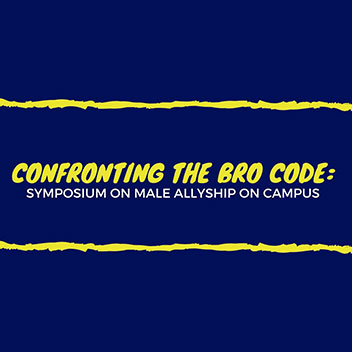 Confronting The Bro Code: Symposium on Male Allyship on Campus
About
Are you kind of over the bro code? Do you know someone that has experienced sexual violence? Do you want to be a better ally to your friends? Do you want tools for responding when someone is being a douche? Do you want to be able to really talk to other dudes in your life?
With an increased focus on responding to sexual violence on campus, how do we reframe the conversation to remind ourselves that gendered and sexual violence isn't "a women's issue?"
Confronting the Bro Code Symposium, taking place March 10, 2020, is a different kind of opportunity, for men and masculine folks, to talk about our role in responding to gendered and sexual violence on our campuses.
Men have an important and unique role to play in ending gender-based violence. Many men, including students at Laurier, recognize that gendered violence is happening in their community at incredibly high rates and want to do something in response. While no single intervention is going to end gender-based violence at Laurier, equipping students with the tools and skills to address many different forms of violence will have a critical impact.
This symposium will help participants better understand survivor-centered, intersectional male allyship while also building practical skills. It will also help us recognize that we are not alone in wanting to create change – whether that's challenging "locker room talk," reinventing narratives of healthy masculinity, actively intervening when they see sexual violence, or otherwise promoting a healthy campus culture.
Confronting the Bro Code: Symposium for Male Allyship on Campus will provide an opportunity for participants to learn how to stand up and speak out against gender-based violence and create safer campus communities for everyone.
This symposium is free and lunch is provided.
Hosts and Funders
The symposium is hosted by the Office of Dispute Resolution and Sexual Violence Support (Consent is Golden), the Student Wellness Centre and our vital community partners: the Sexual Assault Support Centre of Waterloo Region and Male Allies.
The symposium is funded through the Student Life Levy and the Women's Safety Grant.
Who is the Symposium For?
The symposium is for everyone, but this symposium was particularly created for men and masculine folks to have a space to learn about, reflect on, and discuss ways we can confront violence in our friendship groups and communities.
We are intentionally centring conversations which impact men, especially students, and identifying opportunities for all Laurier community members to make change on campus.
The symposium takes place on the Waterloo campus but a bus is being organized from the Brantford campus.
Registration
Register for this event on Eventbrite.
Agenda
This event takes place March 10, 2020.
8:30 a.m. – 9 a.m.: Registration
9 a.m. – 9:30 a.m.: Opening
9:30 a.m. – 11 a.m.: Keynote: Confronting the Bro Code
11:15 a.m. – 12:30 p.m.: Panel: Hearing the Impact
12:30 p.m. – 1:30 p.m.: Lunch
1:30 p.m. – 2:45 p.m.: Panel: Boys will be Boys… Who Call Each Other Out!
3 p.m. – 4:15 p.m.: Panel: Home Court Advantage: Creating Male Allyship in Your Own Community
4:15 p.m. – 4:45 p.m.: Wrap Up and Next Steps
Speakers
Speaker list to come.
Location
The symposium takes place in the Senate and Board Chambers, Waterloo campus.
Laurier is located on traditional territory of the Neutral, Anishnawbe and Haudenosaunee peoples. Learn more at www.lspirg.org/knowtheland.
Kitchener-Waterloo and Brantford are both located on the Haldimand Tract, which, on Oct. 25, 1784, after the American Revolutionary War of Independence, was given to the Six Nations of the Grand River and Mississaugas of the Credit First Nation by the British as compensation for their role in the war and for the loss of their traditional lands in Upstate New York (www.sixnations.ca, mncfn.ca). Of the 950,000 acres given to the Haudenosaunee (six miles on either side of the Grand River, all the way along its length), only 46,000 acres (less than 5 per cent) remain Six Nations land (www.sixnations.ca) and 6,100 acres remain Mississaugas of the Credit land.
Accessibility
This event is wheelchair accessible. There are accessible washrooms available for use next to the event space. Gender inclusive washrooms are available.
To help provide a chemical and fragrance free event, please refrain from wearing colognes, perfumes or other scented or chemical products to the event.
We aim to ensure that people have equal access to this event. Please contact us, if you have any particular accessibility requirements. Requests for any additional accommodations should be made by two weeks prior to March 10 and submitted to svinfo@wlu.ca. All requests will be kept confidential. Every reasonable effort will be made to provide accommodations in an effective and timely manner.