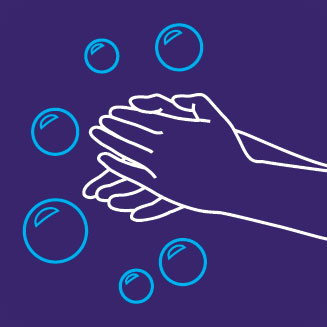 Frequently asked questions at Laurier about coronavirus
Questions About Coronavirus
What is the Coronavirus?
Coronaviruses are a large family of viruses that originate in animals but are known to cause respiratory illness in humans, particularly during the fall and winter months. Other novel coronaviruses have included Severe Acute Respiratory Syndrome (SARS) and Middle East Respiratory Syndrome (MERS-CoV).
In January, 2020, a novel (new) coronavirus (2019-nCoV) was identified as the cause of an outbreak of pneumonia originating in Wuhan, China. The latest statistics for Ontario are available at ontario.ca/coronavirus.
What is the risk?
Public Health Ontario advises that the risk to Ontarians is still considered low. The university is taking its guidance from public health agencies at the local, provincial and federal level, who are closely monitoring the outbreak, conducting surveillance and appropriate laboratory testing, and providing public health and infection control guidance.
To date, cases have been reported in individuals who have been in Wuhan, China, and those who have had personal contact with infected individuals. The risk of more severe illness may be higher for individuals with weakened immune systems such as older people or chronic diseases such as diabetes, or heart, renal or chronic lung disease.
What are the symptoms of novel Coronavirus?
Symptoms range from common to severe respiratory illnesses and include:
fever
cough
difficulty breathing
Many of these symptoms are similar to seasonal influenza. Should you experience these symptoms and have recently travelled internationally, avoid contact with others and follow-up with your health care professional. Advise your health professional in advance of attending clinic of your symptoms and travel history.
Questions About Prevention
What can I do to protect myself?
Continue to practise good hand washing techniques and hygiene practices. This includes washing thoroughly with soap and water, using hand sanitizer, coughing or sneezing into your elbow, and staying at home or in your residence room if you are experiencing flu-like symptoms.
Should students, staff or faculty with flu-like symptoms attend class/work?
Those with severe symptoms should stay at home or in their residence room. Students should continue to report illness as they usually do. Students in residence should inform residence staff. For staff, please report your absence promptly to your supervisor per normal practice.
I live in residence and think I may have flu-like symptoms. What should I do?
If you experience symptoms while living in residence, please attend the Wellness Centre and let your Residence Life Don know via email that you are not well. Your Don will notify the appropriate Residence professional staff who will be able to assist you further if needed. As it is also influenza season, you may want to purchase the following items to keep on hand as a precautionary measure:
Over-the-counter medication to reduce aches and fever (e.g., acetaminophen or ibuprofen).
Cough medicine and throat lozenges.
Any prescription medicines you take.
A thermometer (non-mercury).
Tissues.
Hand sanitizer (should contain at least 60% alcohol).
Disinfecting wipes or cleaning products to clean your shared and personal space.
A water canteen or bottled water, and juice.
Should students, staff or faculty with flu-like symptoms be excluded from class/work?
No one should be excluded or banned from attending classes or work. Students, staff and faculty with flu-like symptoms — especially fever — are encouraged to stay home, but some may choose to attend classes and work. At this time, the risk of contracting the novel coronavirus is low.
Should anyone with a travel history to an affected region be excluded from class/work?
No one should be excluded or banned from attending classes or work. At this time, the risk of contracting novel coronavirus in Ontario is low. Students, staff and faculty who have visited the affected region and who have symptoms (especially fever) are encouraged to stay home to contact their health care provider (your doctor, or Telehealth: 1.866.797.0000 or, if it's an emergency, call 911).
What should I do if I come into contact with a person with symptoms, or who I think has returned recently from Wuhan or other high-risk areas?
To reduce exposure to and transmission of a range of illnesses, including coronaviruses, you should follow usual health precautions such as:
Wash your hands often;
Avoid contact with people who are sick; and
Practise proper cough and sneeze etiquette (sneeze or cough into your elbow).
Will classes be cancelled?
As with any class cancellation or change, students are advised to check MyLearningSpace and their Laurier email. A broader cancellation of multiple classes would also be communicated through the Laurier website and social media. See the university's Policy 2.5 Policy on Academic Disruption (which includes health emergencies).
Should we be cancelling events?
At this time, there is no significant risk of community transmission of the novel coronavirus in Canada. Should the situation change, we will provide advice on this website.
Should I wear a mask?
Generally, a mask is not required at this time although some may choose to wear one. Surgical masks, such as those sold in pharmacies, have limited value. Those in health care settings will follow the requirements of their facilities with respect to appropriate protective gear if they are working with suspected or confirmed cases.
Questions About Travelling
Has Laurier cancelled all university-sanctioned travel to China?
Yes. As of Feb. 1, Laurier has cancelled all university-sanctioned travel to China for staff, faculty, undergraduate and graduate students until further notice. This includes exchange, research activities, research placements, field courses, conference travel, university business travel, or any other travel that has been approved, authorized or supported by a Wilfrid Laurier University unit, department, staff or faculty member. This decision was made following a Government of Canada advisory to avoid all non-essential travel to China and to avoid all travel to China's Hubei province due to the outbreak of a novel coronavirus.
I am affected by travel restrictions and cannot return to Canada. What should I do?
If students are unable to return to the university as a result of the travel restrictions, undergraduate students should contact academic advising in the faculty in which they are registered for appropriate support and counsel. Graduate students should contact their program advisor. Contact information is available on Laurier's Academic Advising webpage.
I am planning to travel in the coming days. What should I do?
Students, staff and faculty travelling internationally should refer to the Government of Canada's travel advisory website. As of Jan. 29, 2020, the advice for China is to exercise a high degree of caution and to avoid all travel to the province of Hubei.
Important Contact Numbers
Telehealth Ontario
1.866.797.0000
Telehealth Ontario is a free, confidential service you can call to get health advice or information. A registered nurse will take your call 24 hours a day, seven days a week.
Wilfrid Laurier University Health and Wellness
Information Resources