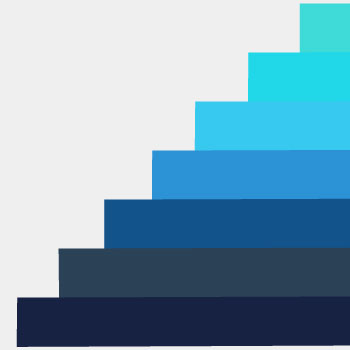 Steps to Well-Being
The Student Wellness Centre uses the Stepped Care Model to help you monitor your mental health effectively.
The model starts with a proactive/autonomous approach where you can use resources available to you to help you maintain your mental health and progresses to a reactive/intervention approach where group sessions are beneficial, or medical professionals are involved in your treatment. 
Step 1: Practice Self-Care

Use your current list of strategies to stay well (eating healthy, getting regular sleep, regular exercise, personal hygiene, etc.). To avoid burnout, choose self-care activities intentionally now to relieve stress in certain areas that might come up later.  
Step 2: Expand Your Knowledge

Read through our trusted list of mental health resources and community supports at wlu.ca/wellness. Get helpful tips and strategies by reading peer and professional written articles available on our website. 
Step 3: Develop Your Skills

Attend weekly counsellor-led workshops to learn about riding the waves of student life. Learn the basics of staying well at Wellness 101 workshops, led by peers and educators. 
Step 4: Talk to a Peer

Not quite ready to speak to a professional? Chat with a trained student to vent and feel connected through common experiences. 
Step 5: Attend a Group Session

Learn more about anxiety, how it affects us, and how to manage it, in a small group setting by attending weekly counsellor-led skill groups.
Step 6: Book a 1:1 Appointment

Call to book a one-on-one appointment with a doctor, nurse or counsellor for individual support, referrals or advice.
Step 7: Seek Immediate Support

If you require urgent health care, visit your local hospital or any of our after-hours supports.