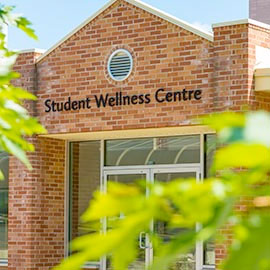 Put Your Wellness First from Your First Day at Laurier
Going away to university is an exciting time, but it can also be overwhelming. The Student Wellness Centre is the place students go to receive high-quality physical and mental health support while they are away from home. Our team is made up of physicians, a nurse practitioner, registered nurses, counsellors, and a dietitian. We also offer wellness therapies, such as physiotherapy, chiropractor care, and registered massage therapy to support your overall wellness. 

As you prepare to move to Laurier in September, there are things you can do at home now that will help you be ready to take care of your health and wellness, so you can thrive at Laurier:
Bring your health card with you
The cost of doctors' visits is covered by provincial health insurance or UHIP for international students. For Ontario residents, that means you should make sure your green Ontario health card is valid, and you should have it with you whenever you visit the Student Wellness Centre.
Don't discontinue complex medical care from a specialist or your family doctor
Talk to your doctor before you leave home and make a plan for the continuation of your care while you are at Laurier. Once you arrive, give us a call to discuss how we can help to support that plan.
Make sure you have a list of your current medications
Make sure you bring medication refills with you, or prepare ahead of time for how you can get your medication while you are here. You are welcome to give us a call ahead of time if you are not sure what to do.
Check if your immunizations are up to date
Contact your family doctor or your regional public health office to get an up-to-date list of your immunizations. If you can't find this information, or if you think your vaccines may not be up to date, make an appointment to talk to the nurse in the Student Wellness Centre.
Contact us as soon as you think you need counselling support
The period between the end of Reading Week and the start of final exams is a time of high stress and peak demand for our counselling services. Remember to ask yourself early in the term if you think you could benefit from counselling. Last-minute appointments can be difficult to obtain at busy times, so please don't hesitate to reach out.
Familiarize yourself with the student extended health and dental plan
The Student Wellness Centre does not administer the extended health plans, so visit the Undergraduate Health and Dental Plan or Graduate Students Health and Dental Plan websites to check your coverage.
Visit your dentist before you arrive at school to avoid painful surprises
Dental care and emergency dental services are not provided by the Student Wellness Centre. Make sure you understand the dental coverage in your extended health and dental plan before you need a dentist.
Consider dropping in to register with us as part of your orientation
You don't have to wait until you want to book an appointment to come in and get registered in the Student Wellness Centre. It's a great way to get to know us and familiarize yourself with the clinic, so that you feel more comfortable asking for help when you really need it.
Visit our website
The Student Wellness Centre landing page has up-to-date information about our hours of operation and services and make to visit the Student Wellness Centre Information Hub on My Learning Space once you have access.

The Student Wellness Centre is here to support your health and wellness while you are studying at Laurier. We are committed to creating a safe, welcoming, and nonjudgemental environment for all students and to providing comprehensive, collaborative, and confidential services to support you physical, emotional, and mental health.