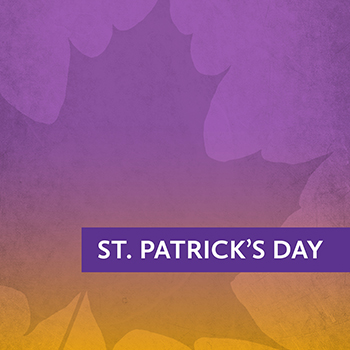 Safety information for St. Patrick's Day
Make safe choices.
The safety of our community safety is our highest priority. As students, you are expected to engage in safe, responsible and respectful conduct.
Although many restrictions have been lifted in Ontario under the Reopening of Ontario Act, the pandemic is not over. Keep in mind the guidance from public health and stay home if you are feeling sick and keep crowds small. Remember that the larger the gathering, the higher the risk for spreading COVID-19.
If you are of legal age to drink and choose to consume alcohol, drink responsibly, know your limits and don't drink and drive. Intoxicated students will not be allowed to enter academic buildings.
For tips, visit drinksmart.ca/tips.
Obtain consent for all sexual encounters. For tips and information about consent, visit the student-run consentisgolden.ca/consent website, which includes information about how drinking impairs people's ability to give and receive consent.
If you or a friend needs help, always ask for it. Increased security personnel will be stationed in and around Laurier's academic buildings.
Keep resources handy on your phone by downloading the SAFEHawk app or contact Special Constables at x3333.
Whenever possible, walk with at least one friend. Walk in well-lit areas in view of other pedestrians or motorists. Make use of Foot Patrol by calling 519.886.3668.
Know the consequences.
Enforcement tips from Special Constable Service, Police, Fire and Bylaw:
Street Behaviour
Wilfrid Laurier University does not organize or condone large off-campus activities that interfere with law and order in the community.
Consuming alcohol in public areas is prohibited. Violations may result in a ticket.
Waterloo Regional Police will be patrolling on foot, in cruisers and on bicycles to support safe activities.
R.I.D.E. programs will be active March 17 to remind the public not to drink and drive.
Parking and noise bylaws will be in place.
Alcohol
Selling alcohol at keg parties is illegal. Police will be monitoring the illegal sale of alcohol.
Charging money for people to consume alcohol, even when promoted as a 'cleanup fee' or a 'bracelet fee,' is still considered selling alcohol by police and the courts.
If purchasing alcohol, do so from a licensed establishment, be of legal drinking age, drink responsibly, and arrange a safe way home.
Fire Safety
Interior residence hallways and all exits must remain free and clear of obstructions at all times.
In the event of a fire, follow emergency procedures and have two exits out of the building.
Keep the entire road clear for emergency service vehicles.
Falsely setting off a fire alarm, fire extinguisher or smoke alarm is a criminal Code of Canada offence.
Fines
All tenants on a property lease are equally responsible for all activities at their residence.
Compliance officers will focus on noise issues, public urination, garbage and property standards.
It is an offence to:


Litter or urinate in public (fine: $300).
Have excessive garbage in your yard (fine: $550).
Make excessive noise (fine: $490).
Set off a false fire alarm (fine: $179.11 per hour, per firefighter).