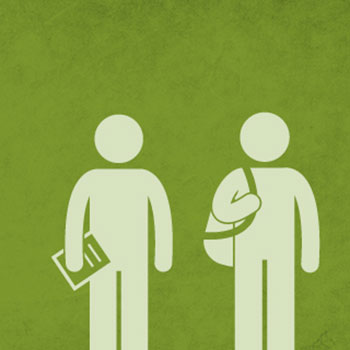 Important information for students about St. Patrick's Day
You have acted with thoughtfulness and with a sense of social responsibility to protect your health and the health of our community throughout the COVID-19 pandemic.
On March 17, Laurier urges you not to engage in some of the most risky behaviours, such as backyard parties, house parties and unsanctioned street parties. The health risks of COVID-19 remain very real, and our family members, friends, and neighbours are counting on you to make smart choices and to follow provincial and public health guidelines.
Waterloo Region is in the Red-Control category, which directs individuals to "only go out for essential reasons." As such, City of Waterloo bylaw officers are actively enforcing provincial rules, including issuing fines to individuals found attending house parties or backyard parties in contravention of the emergency order.
Please stay the course as we finish off the winter term. The more careful about COVID-19 we are now, the more we can look forward to a gradual return to campus in the fall.
Enforcement
Breaking public health guidelines can also lead to serious consequences. Gatherings that break the provincial restrictions can result in serious fines for failing to comply with an order during a declared emergency.
Everyone attending an illegal gathering could get a ticket, and bylaw officers would focus on those responsible for the property, including tenants and party organizers. Fines range from $880 for participants to $10,000 or more for party organizers or hosts.
Given the health risks associated with gatherings, police, special constables and bylaw enforcement officers will take a firm approach to laying charges.
Guest Policies and Building Access
The "no guests" policy for the 2021 academic year continues to apply at Laurier's residence buildings. Additional staff will be on hand on March 17 to help ensure that all students are able to use their assigned residence spaces without disruption, as well as feel safe and secure.
Guests are also not allowed in the Ezra-Bricker Apartments and Houses (managed by Campus Living Centres). This has been communicated through a number of notices from the property manager. Occupancy will be restricted to the residents that live in each property.
Access to buildings on Laurier's Waterloo campus is already restricted due to COVID-19 and there will be no changes to the current access.
It Can Happen to You. Make Smart Choices.
Attending a house party, a backyard party or a street party will put at risk your health and that of those you around you.
Please consider the health impact that your choices have on you, your friends, and the people who live in our community.
Alcohol is a drug. Know your limits. In addition to enforcing public health rules, police will issue tickets for drinking underage and for drinking in unlicensed public places.
Look out for our community: if you or a friend needs help, always ask for it. Download the SAFEHawk app, contact Special Constables at 519.885.3333 in Waterloo or 519.770.3778 in Brantford or call 911 if you need help.
Consent: It is necessary to obtain consent for all sexual encounters. Drinking eliminates your ability to give and receive consent – wait until you're sober. For more information and support resources, visit the Gendered Violence Prevention and Support site or contact Sarah Scanlon, Sexual Violence Response Coordinator at sscanlon@wlu.ca.
Arrange a safe way home: Please note that due to the COVID-19 pandemic, Foot Patrol now runs virtually through Laurier's SAFEHawk app. Download the SAFEHawk App and follow @wlu_footpatrol_w and @lbfootpatrol for more information.
R-E-S-P-E-C-T
We are proud of our Laurier students, the university's reputation, and the Golden Hawk community, which we all represent. Your decisions are even more meaningful during this public health emergency. Please make safe and respectful choices as members of the wider City of Waterloo and City of Brantford communities.
Please respect the law enforcement officers who are working to keep you and our community safe and allow them to do their jobs.
Respect others and their views, identities and preferences.
Fines
Indoor or Outdoor Gatherings
Waterloo Regional Police and Laurier Special Constables will be increasing patrols on foot and in cruisers.
Fines for attending house parties that break provincial health rules range from $880 for participant to $10,000 for organizers or hosts.
Fire Safety
If there is a fire inside your building, follow the emergency procedures and know where the exits are in your building.
Falsely setting off a fire alarm, fire extinguisher or smoke alarm is a Criminal Code of Canada offence.
The fine for setting false alarms is $642 per fire truck dispatched to your property.