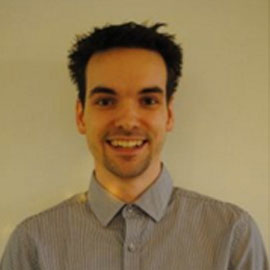 Geographic Information Systems Analyst (Archaeology, BA)
Matthew Fowler, Terra Archaeology
From Laurier's graduating class of 2009, Matthew Fowler completed the Archaeology program with the co-operative education option. In high school, Matthew had interests in history and science. Archaeology was a great combination of both those disciplines. Luckily after his first year of university, he completed a field school and knew he made the correct choice of discipline. As a student, Matthew was very involved in Laurier's clubs and associations including being a student leadership mentor, an Orientation Week icebreaker and the president of the Archaeology Society where he developed strong communication skills. These combined experiences helped him to learn how to work effectively as a team member as it provided insight into different leadership styles and personality types. Additionally, volunteering helped him to get a better understanding of how to facilitate meetings, both delivering information and prompting others to contribute. All these skills are used daily in his professional and personal life. Matthew worked his first co-op work term with Archaeological Services Inc. (an archaeological consulting firm) and his second with Parks Canada excavating various sites. While studying at Laurier, Matthew initially intended to do a masters program where he could combine his archaeology and chemistry skills, but struggled to identify opportunities that would take advantage of that combination of interests. Therefore, he decided against pursuing a masters degree and instead began looking for ways to move up in an archaeology company.
Before graduating, Matthew applied to work for Archaeological Research Associates (ARA), which was owned by one of his old professors. He received the job based off his previous work experience in his co-op positions. He worked at ARA for three field seasons. Matthew noted that this work was seasonal, so when the ground froze he was out of work until the following spring. He started seriously looking into postgraduate options in his second season with ARA. At that time, Matthew reflected on a class experience whereby a cartographer came to share information regarding her profession. When thinking of skills that he wanted to develop, this was the area that caught his attention. During his archaeology positions (ARA and co-op), he took spatial recordings using handheld GPS units, but was not involved in the post-field work analysis of this data. Studying Geographic Information Systems (GIS) would enable him to perform the analysis on the data collection. This led Matthew to pursue an advanced diploma in GIS through the British Columbia Institute of Technology. The greatest part about GIS is that in can be applied to a multitude of industries. It was also fortunate that Matthew's undergraduate degree in archaeology and co-op work experiences were highly relatable to GIS applications. Explaining what a GIS analyst actually does is quite complicated and if Matthew were to describe it in one word, a simple definition of this position would be "mapping."
As Matthew was completing the second half of his postgraduate diploma, he completed an internship at Kerr Wood Leidal (an engineering consulting firm that specializes in water infrastructure and resource development). Here he had a mentor who introduced him to all aspects of the company that related to GIS.
After completing his diploma, Matthew spent four months distributing his resumé and networking with both archaeology and non-archaeology companies (e.g. mining, forestry, engineering, municipalities, etc.). His previous experience at technician levels and in-depth knowledge from his advanced diploma enabled him to land a position as a GIS Analyst with Terra Archaeology.
In a nutshell, there are three levels to GIS work in the GIS industry, although everything is loosely translated depending on the company. Generally, the levels are: technician, analyst and manager. Technicians usually do not require any official training or specific schooling. People who apply to be technicians are for example, those who have worked in the company for a while and someone who is proficient with GIS operations because they picked it up on the job. Lots of people who have formal schooling in GIS (diploma or a masters) start in a technician role as well; they start here and move up. An analyst would require at least a year of training as they are doing a lot more complicated tasks such as spatial analysis, running more complicated geoprocessing tools and relating different data sets to name a few. There is no GIS position that requires you to have a masters degree over an advanced diploma. These are just different avenues to obtain further schooling in GIS; the diploma being more hands on and practical, with the Masters degree being more theoretical.
A typical day for a GIS analyst varies depending on the workload. As Matthew works in a consulting firm, the work is dictated by the contracts that they get. He works strictly in office, as it is the archaeologists that go out in the field to conduct the archaeological assessments. Because it is a small company, there is no GIS technician, analyst or manager. Matthew wears all those hats on different days. When Matthew was hired, they indicated that he was needed in the office full-time doing GIS and wouldn't do any field work. Three years later and this is still the case however, he is enjoying what he does! At the end of the day, Matthew reports how much time he allocates to each of his projects. He usually works eight hours on various projects a day, however during a busy time, extra hours of work can be necessary. An example would be some projects that are completed over the course of weeks. In a day, he may complete fifteen minutes or three hours of work on a project, but may return to it to do additional work at a later day. Every day is always different and each day a project's priority would be modified. Matthew holds a unique position in which he is essentially his own department. When the workload gets heavy, there are a few employees that have GIS knowledge who can assist with the workload. There is one other employee Matthew works with who is enrolled part-time in the same GIS Diploma program that Matthew completed, so working and gaining relevant education simultaneously is an option in this field.
The fact that some days are challenging and some days are basic makes working as a GIS Analyst very attractive for Matthew because of the variety. The days are never repetitive and there are a lot of projects that keep him busy. Part of the Environmental Assessment Act dictates that an archaeological assessment must take place before development can proceed. Terra Archaeology is hired by larger clients such as, BC Hydro, the Ministry of Transportation and Infrastructure, and as well as smaller private companies. Examples of projects would be a new subdivision being developed, a stretch of highway being expanded to include a new lane or a forestry block ready to be harvested.
Some challenges that can occur in this line of work include getting data from clients in the correct format. An example would be when a client indicates that a project needs to be done and sends a paper map, but to take advantage of GIS, he specifically needs spatial data. Additionally, the client may provide spatial data in a format that they can't use. Like any other piece of software, there are technical difficulties. A program or the computer unexpectedly crashes or data won't load correctly. Matthew is reliant on the software he uses, so technical difficulties essentially bring his work to a halt. Issues with the server where the data is stored can cause a period of time where he can't do work. This role is very reliant on the technology to complete the work.
Additionally, when Matthew was asked what the most important skill that a GIS analyst should possess, he indicated being an effective communicator is vital. Matthew's position requires him on a day-by-day basis to be aware of people's priorities and making sure he is getting everything his clients want completed within established deadlines. This all requires him to effectively communicate what clients want from him and what he, in turn, requires from the client to complete the project effectively. This extends to communicating with project managers, the owners of the company and archaeologists in the field.
For those interested in more knowledge regarding GIS, networking with people in the industry is very beneficial. A lot of GIS people are willing to share their experiences. They would be willing to give ideas on software and soft skills to begin honing. The skill sets, programs and courses you need all depend on the company, so contacting someone in the field is wise. The professional designation is known as 'GIS Professional.' ESRI makes the most commonly used GIS software in Canada. Students should take a look at the Esri Canada website for more information. It has a large presence on social media and is very informative on how GIS is utilized in various industries as well as the products and services it provides.