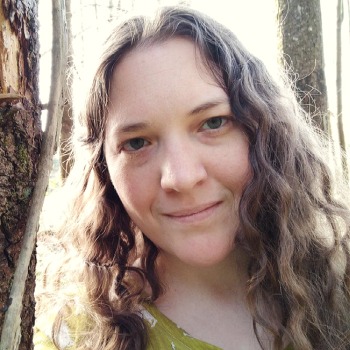 Entrepreneur, Sustainability (English, BA)
Serina Patterson (PhD), Founder, Earthlove
By: Devyn Maybee, Career Centre Peer 
With aspirations of pursuing a career in academia, Dr. Serina Patterson left her small mining town in Northern Ontario to begin her post-secondary education at Wilfrid Laurier University studying for a bachelor's degree in English with the Business Administration option. While at Laurier, Serina took a variety of courses from multiple disciplines including the arts, humanities, business, science, and even computer science. Despite being the only English major in a computer science course, Serina believes her diverse undergraduate background helped her get to where she is today. Taking such a range of courses allowed Serina to explore interests and passions she didn't even know she had, all while keeping her career options open. 
Upon graduating from Laurier, Serina continued her studies at the University of Victoria, pursuing a master's degree in English. She was recommended by some of her English professors to investigate the west coast school because of their digital humanities program and their Electronic Textual Culture's Lab. Additionally, medieval, and early modern literature was something Serina was exposed to through a couple of courses at Laurier, and she quickly fell in love with the texts, manuscripts, and history of the period. University of Victoria also had a dedicated group of medievalists and thus, Serina was able to continue exploring her newfound area of study. While completing her master's degree, her supervisor, Dr. Alan Mitchell, asked Serina to calculate the probability of the fifteenth-century Chaucerian dice poem, The Chaunse of the Dyse, which was a rather odd request. While undertaking this project, Serina was introduced to medieval 'game poems,' which prompted her to continue her study of game-texts and premodern games while completing her PhD in English at the University of British Columbia with a Joseph-Armand Bombardier SSHRC Scholarship under the supervision of Dr. Robert Rouse. Her dissertation, entitled, "Game On: Medieval Players and their Texts," addresses the social and cultural significance of parlour games in medieval and early modern England and France by exploring how the convergence of textual materialities, players, and narratives manifested in interactive texts, board games, and playing cards as well as how these intersections developed and changed over time. As part of her graduate work, she also published an edited collection with Palgrave MacMillan, titled Games and Gaming in Medieval Literature (2015), and numerous other peer-reviewed academic articles and chapters about premodern and neomedieval games. 
As a hard-working and passionate woman, Serina started freelance work as a web developer with the Electronic Textual Cultures Lab where she had worked as a research assistant during her master's degree. Serina also freelanced as a user-experience (UX) and web designer as she enjoyed understanding how technologies create meaningful experiences. This hobby quickly became her full-time job as Serina landed many high-profile clients including non-profit organizations, civic tech start-ups, and several entrepreneurs. Serina accredited some of her UX design experience to the computer science courses she took at Laurier, which would not have been possible without her courage to step into those classes. 
While working as a freelance web developer, Serina was simultaneously completing her dissertation, which included a five-month trip to Europe to conduct primary research by looking at several medieval and early modern manuscripts that few scholars have studied. Serina visited museums and medieval churches in France, England, and Ireland all while travelling independently. Serina believes that while travelling autonomously can come with many challenges, it also offers opportunities for personal breakthroughs.  While conducting her research abroad and concurrently working as a web developer, Serina learned that there were many different ways to teach people and began to think that her personality may be more suited outside the academic world. Although passionate and interested in medieval literature, Serina wanted impactful work and preferred to work in an industry of abundance, rather than scarcity (as can be the case for academic positions). 
During this time, Serina was also burning out after putting in thousands of hours creating websites and dealing with client's high expectations. As a perfectionist, Serina recognized this job was too time consuming and energy demanding with little opportunity to scale her business without having to hire a team or become a full-service agency. Although Serina was already an entrepreneur, she was still technically working under contracts for other people and decided she was ready to truly become her own boss. 
That Christmas, Serina's friend wanted to give her a subscription box as a gift but could not seem to find one she believed Serina would like. Subscription boxes are a recurring delivery of niche products that target a wide range of customers and cater to a variety of needs and interests. This re-ignited a business idea Serina had during her time at Laurier called 'Bear Hugs Canada' where you could send your loved one's personalized items over a series of months. Serina wanted to pursue a business that would not only focus on our connection with the natural world, but also one where she could use her academic knowledge and teach through diverse forms of learning. As she was planning this new business idea, Serina and her partner bought a 20-acre farm which queued the introduction of her new business Earthlove. 
Earthlove is a seasonal subscription box that helps people live mindfully with the Earth by curating sustainable, eco-conscious items from small businesses and artisans around the world. Serina conducts extensive research to ensure that every item and food placed in the boxes are vegan (and 'beegan'), organic, gluten-free, all-natural, non-GMO and Fair Trade, which makes Earthlove arguably one of the most sustainable subscription boxes in North America, to date. Serina's venture is unique because not only does she sell subscription boxes with tangible products, but she has also created a community of 'Earthlovers' who can take on 'eco-challenges' which is where Serina's love for teaching shines. Her goal is to encourage and inspire her community through an interactive way of learning to live better and create better habits, without feeling guilty or overwhelmed. It is about pacing your learning, doing the best you can and allowing oneself to grow. 
Serina recognizes that the sustainability industry is full of greenwashing (businesses that market sustainability but lack true green action) and her ultimate goal is to educate, not only the consumers, but also the businesses whose products are included in her box. Serina promotes true sustainable action by turning away certain businesses who promote themselves as being 'green' yet send products that do not meet her high eco standards. Earthlove is proud to have helped companies adopt greener practices in order to be included in her subscription box. Additionally, Serina notes that the sustainability industry is very product focused but should be more focused on thinking holistically and appreciating nature. 
Today, Earthlove is Serina's full-time job and now, living on a 20-acre working farm, her dream of pursuing an impactful career in education that adheres to her values for improving peoples' lives as well as the wellbeing of the planet has been realized. Serina's ultimate vision with her subscription business is to continue growing an online media-educational platform and for her farm to become a physical site for holistic and mindful living, which could include teaching homesteading (lifestyle of self-sufficiency), tai chi, wellness classes and any other interest Serina might develop over time! 
Serina's advice for career success is to take courses in multiple disciplines since you may find a passion you never knew existed. Additionally, Serina argues that you should learn about yourself and what environments you work best in, which can only be done by stepping out of your comfort zone. Her final piece of advice is that there are jobs out there that you don't even know exist, and although the road to success can be weird and windy, you can still get to somewhere amazing!