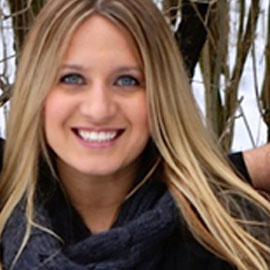 Social Planner (Criminology and Sociology, BA)
Tamara Kerr, Region of Waterloo
A graduate of criminology and sociology from Laurier, Tamara is now a social planner with the Region of Waterloo. Studying at Laurier played a major role in getting Tamara into this occupation. Having once debated on pursuing a career in law, Tamara worked as a client service representative in a summer student position at the Superior Court of Justice. Working in roles that were about helping others was at the forefront for Tamara.
After graduating, Tamara completed a Master of Arts degree in Social Change and Development from the University of Newcastle, Australia where courses examined all aspects of social change, from global issues to impacts on local communities. After studying, she gained work-related experience within state government and university sectors by coordinating projects that exposed Tamara to data modelling, forecasting and policy analysis.
Tamara has acquired a variety of experiences in community services. Working as a youth counsellor helping marginalized youth in a municipal residential program tweaked a strong interest in prevention and harm reduction. She also refined her research, evaluation and project co-ordination skills in a role with the University of Ottawa, which then lead to a Strategic Policy Analyst position with the Assembly of First Nations (AFN). During her time with the AFN, Tamara provided strategic support on projects related to First Nations health, social and economic development. She also gained experience advocating to government and working with First Nations Chiefs and Council.
In Tamara's current role as a social planner, she does a great deal of writing, research, facilitation, and working with the community. To become a social planner, you need to pursue a master's degree in the field of social sciences; for example, community development, psychology, social work, or statistics to name a few.
There is always work to do as Tamara, along with a small group of other social planners, support the Community Services Department at the Region of Waterloo. Some examples of projects that planners might support include, planning for child care, early years programs, supports for families, employment and income support programs, senior's services, and housing and homelessness. Planners often support community participants in group settings and on procedures that help to inform the direction of local strategies.
A majority of the work is project-based so she gets to see the project through from the concept phase to implementation and centres on thinking about building or implementing strategic plans. This work often leads planners to work with the community through engaging in vision and goal setting exercises, as well as selecting priorities for future effort. Though her work is stationed at the office, there are opportunities to work in other settings in the community such as, engaging with community partners (e.g. the Salvation Army or the YMCA).
Tamara's line of work gives her the chance to be creative and work with others to plan for challenging future opportunities. Tamara notes that being a part of community progress or improved outcomes for people is the most rewarding aspect of her work. It is important to be responsive to community needs and view growth as an opportunity, not a barrier.
For those interested in a social planning career, Tamara recommends learning as much as you can about statistics and complex research problems as being a planner involves assessing data and making recommendations that can have an impact on the future of a community. Having some experience in project management or strategic planning is an asset as her line of work is project based. Many personalities can fit into a role as a planner, but it is important to have an interest in public service and be adaptable.