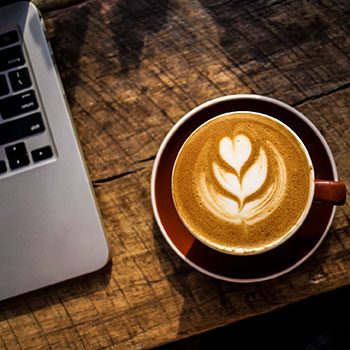 Ten Thousand Coffees
In a time of physical distancing when networking events and in-person meetings are off the table, Wilfrid Laurier University's Ten Thousand Coffees community provides students with convenient and meaningful opportunities to build job-ready networks – virtually.
Ten Thousand Coffees is a networking and mentorship platform where you can connect with Laurier alumni to share ideas and build impactful professional relationships. Whether you're looking to learn about different careers in your area of study or explore industry opportunities, connecting with Laurier alumni and students is crucial to your career development.
The goal of this community is to create meaningful connections within Laurier's extended network, while giving students and alumni online access to career advice, mentoring and learning opportunities.
The platform has more than 2,000 members, including more than 1,000 alumni, ready to offer support and mentorship.
Ten Thousand Coffees offers you unique features such as:
A member search tool to help you find members who share similar goals and interests.
Monthly introductions based on your selected role, topics of interest, faculty and goals.
Icebreaker questions to make it easier to reach out to a new connection.
Blogs, articles and other resources focused on networking, mentorship and career development.
A "reply-by-email" feature – you can respond to introduction emails directly from your inbox without going to the platform!
"The monthly introductions make it easy for me to connect with others. In one such case, our conversation was truly a sharing of information as we discussed career paths, keeping our skills relevant in the ever-changing world of work and recognizing transferable skills. While LinkedIn is a great resource for networking, Ten Thousand Coffees allows me to connect specifically with Laurier alumni."
Laurier student, Ten Thousand Coffees member
Join the Ten Thousand Coffees Network
Join now to connect with the over 2,000 (and growing!) Golden Hawks in different industries, all around the world, who are eager to offer advice and guidance.
To get started:
Sign up to create a profile on tenthousandcoffees.com/schools/laurier.
Specify your role (student, new grad, alumni, etc.) and faculty.
Specify your goals and interests.
Complete your profile by linking your account to LinkedIn, adding icebreaker questions or sharing a link or website where people can find more information about you!
In the midst of a period of physical distancing, we are reminded that we can still set ourselves up for success by reaching out and fostering our networks online.
"Taking the initiative to expand your network in times of crisis will demonstrate your dedication to professional development, your resilience in difficult times, and your ability to be proactive."
tenthousandcoffees.com
Already a Member?
Check to make sure your profile is up-to-date! Review your interest areas, update your role (student, new grad, alumni, etc.) and add your faculty. Updating your profile will ensure that you are receiving the best match for your monthly introductions.
Contact Us:
Lydia Awuah-Mensah, Program Coordinator, Career Development Centre